The rupee came off a two-month high and ended four paise lower at 61.27 against the dollar Friday as fresh demand for the US currency from importers outweighed capital inflows and firm local equities.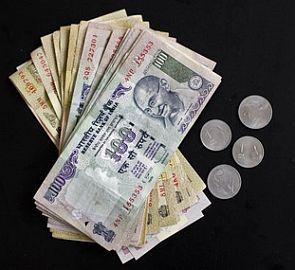 At the interbank foreign exchange market, the local currency started on a strong note and touched a high of 60.92 against the dollar. The rupee closed at 61.27, a fall of four paise. It had gained 60 paise, or 0.97 per cent, Thursday.

"The strength in the rupee was mainly attributed to weakness in the US dollar and sharp gains in the euro," said Abhishek Goenka, CEO of India Forex Advisors.

The rupee shifted between gains and losses after a news report that the Reserve Bank of India is considering closing the forex swap window for oil companies, which the RBI later clarified was still open, Goenka said.

The RBI said in a release that the oil marketing companies swap window remains operational and that any tapering of the facility will be done in
a calibrated manner.
The 30-share benchmark Sensex surged 467.38 points, or 2.29 per cent, to end at a three-year high of 20,882.89. Overseas investors bought a net Rs 1,752.98 crore (Rs 17.52 billion) of shares today, as per provisional data with the stock exchanges.
The dollar index was down 0.06 per cent against a basket of six major global currencies after US lawmakers reached a deal to temporarily avoid a debt default and end a 16-day partial government shutdown.
Forward dollar premiums closed with minor changes.
The benchmark six-month forward dollar premium payable in March eased to 224-228 paise from Thursday's close of 225-1/2-229-1/2 paise while far-forward contracts maturing in September ended at its overnight closing level of 443-448 paise.
The RBI fixed the reference rate for the dollar at 61.2760 and for the euro at 83.8010.
The rupee fell back to 99.21 against the pound from last close of 98.44 and also declined against the Japanese yen to 62.67 per 100 yen from 62.54 per 100 yen from 62.76. It too dropped to 83.82 per euro from 83.55.