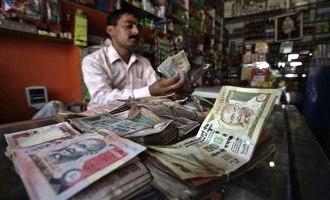 The rupee rose the most in two weeks on Friday to gain 0.5 percent for the week on the back of strong foreign flows into domestic markets even as other emerging Asian currencies buckled over concerns about U.S. interest rates and China's weakening yuan.

Foreign funds have poured in $3.8 billion in domestic equities and bonds in March, sending indexes to record highs on Tuesday.

Analysts have attributed the strong interest in Indian equities to expectations the opposition Bharatiya Janata Party would win elections due next month given its perception as being more business-friendly.

Optimism about the domestic economy has also played a role, given easing inflation and a sharply narrower current account deficit.

"Good funds flows and domestic data have helped the rupee gain. I expect the currency to show further strength towards 60 to the dollar," said Uday Bhatt, senior manager at UCO Bank.

The partially convertible rupee closed at 60.895/905 per dollar, stronger than Thursday's close of 61.34/35, scoring a third weekly gain in four. It gained 0.7 percent in the session, its biggest daily gain since March 6.

The gains have bucked a trend of falling Asian currencies this week, marked by worries about a weakening yuan and concerns that the Federal Reserve would raise interest rates far earlier than expected.

In the offshore non-deliverable forwards, the one-month contract was at 61.41 while the three-month was at 62.14.
Image: A shopkeeper counts money; Photograph: Reuters