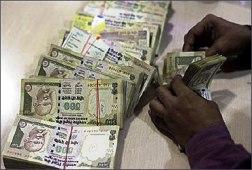 Registering its second biggest fall in 2013, the rupee on Thursday lost a staggering 50 paise to hit a one-week low of 54.36 due to heavy capital outflows as Budget failed to cheer investor sentiment.

Month-end dollar demand from importers, mainly oil companies, also hit the domestic currency, amid a steep fall in local equities, forex dealers said.

Previously, it had plunged by 57 paise, or 1.05 per cent on January 4, 2013.

"Government proposing about Rs 17,000 crore higher net borrowing target in the Budget, which was more than street expectations, hit market sentiment to a great extent.

"This in turn hit the rupee. Especially, banks stocks were badly hit on concerns of tighter liquidity situation," said Mohan Shenoy, Head (Treasury) at Kotak Mahindra Bank.

Foreign institutional investors pulled out a whopping USD 242.4 million (Rs 1,317.79 crore) from Indian equities today, according to BSE provisional data.

Globally, strengthening of the dollar against a basket of major currencies also put pressure on rupee, he added.

The rupee commenced higher at 53.64 a dollar from yesterday's close of 53.86 at the Interbank Foreign Exchange (Forex) market. It moved in a wide range of 53.60-54.49 in an extremely volatile trade before settling at 54.36, a fall of 50 paise, or 0.93
per cent.
However, IDBI Bank's Treasury Head N S Venkatesh welcomed the Budget, calling it "pragmatic and practical" and setting a tone for fiscal management by announcing higher growth projections. He said the fall in markets was mainly due to month-end for F&Os.
Venkatesh said Finance Minister P Chidambaram proposed a slew of measures for FIIs, which in turn bring in more funds into the country boosting the rupee.
"FIIs would be permitted to participate in exchange traded currency derivatives segments.
"Their limit would be to the extent of their Indian rupee exposure in the country. "This would give these investors cover from currency exchange risks," he said.