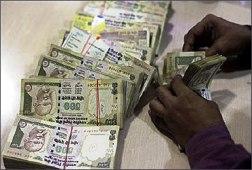 The rupee on Wednesday gained 23 paise to close at 53.86 on renewed dollar selling as Economic Survey strengthened forex market's expectations of Union Budget taking fiscally prudent steps to attract foreign investment and to put the economy back on high growth path.

The local unit started trading slightly better at 54.06 per dollar from last close of 54.09 and immediately touched a low of 54.07 at the Interbank Foreign Exchange Market.

Later, it bounced back on smart rise in local stocks to a high of 53.63 before losing some ground to end at 53.86, a rise of 23 paise, or 0.43 per cent.

Forex dealers said a smart rebound in local equities and sustained fund inflows amid a weakness in the US currency overseas also aided the rupee.

"Rupee gained in line with the gains in local equities. The Economic Survey calling for fiscal consolidation paves way for interest rate cut by RBI which will be good for the industry and indicates the Budget tomorrow to be fiscally disciplined," said N S Venkatesh, Head (Treasury), IDBI
Bank.
"Also, euro strengthening against the dollar and dovish comments by US Federal Reserve's Ben Bernanke hinting at improved liquidity in the American system, which in turn will bring more funds into India aided the rupee," he added.
Dhanlaxmi Bank Executive Vice-President (Treasury) Srinivasa Raghavan said: "The Survey was practically fine. It hinted at steps for containing fiscal deficit in tomorrow's Budget, which is likely to pep rupee to up to 53.50."
Economic Survey for 2012-13 suggested projected an optimistic 6.1 to 6.7 per cent growth in the next fiscal and made a strong call for cutting subsidises.
Referring to the movement of rupee, the Survey said, the rupee has been volatile in the range of 53.02-54.78 against the dollar.