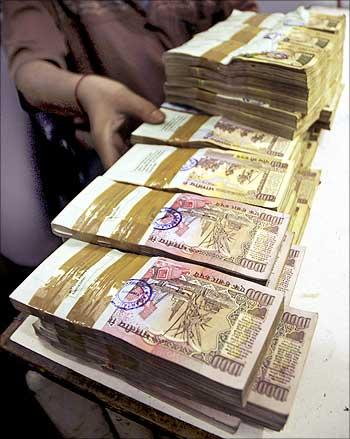 Staging a smart recovery, the rupee on Wednesday appreciated by 11 paise to close at one-week high of 54.84 on sustained selling of the US dollar by exporters and capital inflows worth over $135 million.

Forex dealers said a firm rise in local equities and sluggish dollar overseas also boosted the sentiment in rupee's favour.

The local unit opened lower at 55.07 against the dollar at the Interbank Foreign Exchange (Forex) market from Monday's close of 54.95 and fell further to a low of 55.10 on month-end dollar demand from importers, mainly oil refiners.

However, firm local stocks amid late dollar selling by exporters helped the rupee to bounce back to a high of 54.81 before concluding at 54.84, a net rise of 11 paise, or 0.20 per cent, from its previous closing.

Foreign institutional investors today pumped in over $135 million (Rs 744 crore) into domestic equities, as per provisional BSE data.

"The rupee extended its gaining momentum for the second straight session amid thinly traded volumes tracking huge gains in domestic equity markets and rising capital inflows," said Pramit Brahmbhatt, CEO, Alpari Financial Services
(India).

The Commerce Ministry also approved a package of incentives to boost exports, which supported the rupee, he said.

Faced with a widening trade deficit, the government on Wednesday announced a slew of incentives to reverse decline in exports which will still fall much short of the USD 360
billion target for the current fiscal.
The dollar index, a gauge of six major global currencies, was down by 0.1 per cent as traders warily eyed the soon-to- resume US budget talks on a deal to avert the fiscal cliff.
"Initially the rupee was trading weak taking cues from the recovery in the US dollar index but later the losses in the rupee were capped by the positive stock markets...
"Even today, the volumes were quite low as European markets were closed on account of the bank holiday," India Forex Advisors founder and CEO Abhishek Goenka said.
The premium for the forward dollar recovered on fresh payments by banks and corporates.
The benchmark six-month forward dollar premium payable in May rose to 157-1/2-159 paise from previous close of 155-1/2-157-1/2 paise.
Far-forward contracts maturing in November also recouped to 301-302-1/2 paise from 299-301 paise.
The RBI has fixed the reference rate for the US dollar at 54.9635 and for euro at 72.4525.
The rupee remained firm against the pound sterling to 88.54 from Monday's close of 89.02 and also improved further to 72.47 per euro from 72.69.
It too shot up against the Japanese yen to 64.24 per 100 yen from last close of 65.07.