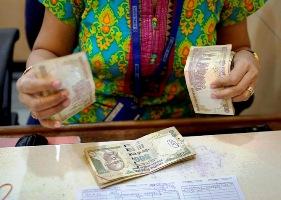 The rupee gained for a third straight session, strengthening to a one-week high on exporter dollar sales, but weaker domestic shares limited a further rise.

Volumes were poor with the markets closed on Wednesday for Christmas and no major events left for the rest of the year.

One source of support has been foreign buying in shares and domestic debt this month. Foreign funds have bought a combined $3.3 billion in debt and equities so far in December.

"The market is dull amid poor volumes due to the year end. Risk-averse exporters are seen selling dollars, while oilers in general will keep up the dollar bids, holding the rupee in a range," said Vikas Babu Chittiprolu, a senior foreign exchange dealer with state-run
Andhra Bank.
"I expect a 61.60 to 62.50 range continuing until the year-end."
The partially convertible rupee closed at 61.79/80 per dollar on Tuesday compared with 61.9525/9625 on Monday. The unit rose to 61.78 during the session, its highest since December 18.
Traders will continue to monitor local shares, euro and other Asian units for direction in the near term.
In the offshore non-deliverable forwards, the one-month contract was at 62.25, while the three-month was at 63.07.