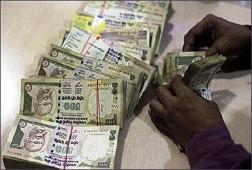 The rupee on Monday nosedived to a three-week low of 54.85 by losing 37 paise against the dollar because of persistent demand for the US currency, amid the government lowering economic growth forecast for the current fiscal.

Continuing its downward march for the fourth straight session, the rupee closed down by 0.68 per cent from its previous close at 54.85, after moving in a range of 54.40- 54.89 against the dollar during the day.

The rupee weakened ahead of the RBI's mid-quarterly monetary policy tomorrow, which could impact the local currency, forex dealers said.

Experts said the government lowering the growth projection for the current financial year to 5.7-5.9 per cent from 7.6 per cent estimated earlier dampened the rupee sentiment.

"The Indian government today lowered the economic growth forecast for the current fiscal to between 5.7 and 5.9 percent from 7.6
per cent projected earlier.
"This could be one of the reasons for rupee's weakness," Abhishek Goenka, Founder & CEO, India Forex Advisors, said.
Internationally, the dollar index was trading below 80.00 and the euro was above 1.3100, and still rupee was seen depreciating.
This indicates that the rupee is more driven by the local news and fundamentals, he added.
"The INR weakened to over three week low on dollar demand from foreign banks also weighed is the weaker tone of domestic equity markets which declined on weak growth forecasts by the government," Alpari Financial Services (India) CEO Pramit Brahmbhatt said.
He added that tomorrow's RBI policy will be key to rupee's movement going forward.