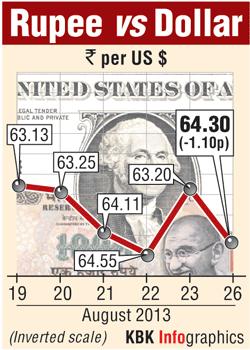 The rupee on Monday tumbled 110 paise to once again close below the 64 mark against the dollar, giving up a major part of Friday's gains amid heavy month-end dollar demand from importers and capital outflows.

A strengthening dollar overseas and late weakness in local stocks also put pressure on the rupee, a forex dealer said. Global ratings agency Fitch today said India's fiscal numbers "look weak" and warned of a downgrade if the country is unable to meet the fiscal deficit target.

At the interbank foreign exchange market, the rupee opened lower at 63.65 a dollar from the previous close of 63.20 and dipped further to the day's low of 64.75.

The local currency recovered some ground after the Reserve Bank of India (RBI) was said to have stepped in through state-run banks, helping the rupee to end at 64.30, a fall of 110 paise or 1.74 per cent.

"The RBI, which was there in the market on Friday, was not seen today, at least till 4.30
pm today. After that, there was some hint of intervention by the RBI. Month-end dollar demand from oil importers kept rupee under pressure," said Navin Raghuvanshi, VP for treasury at Development Credit Bank.
The benchmark S&P Sensex erased early gains and closed up 39 points, a gain of 0.21 per cent. Foreign institutional investors withdrew a net Rs 148.57 crore of stocks on Friday, as per provisional data with the stock exchanges.
In the wake of the rupee's depreciation and doubts over revenue increase targets, the government has repeatedly asserted it will meet the fiscal deficit target of 4.8 per cent. Fitch said the space to contain expenditure is very limited in the second half of the fiscal.
"A slowdown in fiscal expenditure in the second half of the year remains quite challenging," Fitch lead analyst Art Woo said on a conference call on Monday.
The dollar index was up by 0.08 per cent against a basket of six major global currencies after US Federal Reserve officials wrapped up a yearly gathering appearing ready to start slowing the monetary stimulus next month.