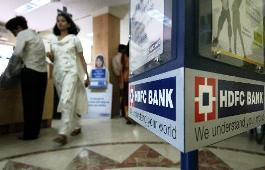 HDFC Bank posted quarterly profit growth of 27 per cent, in line with analyst estimates, because of losses in its investment portfolio, higher operating expenses and worsening asset quality.

This was the first time in a decade that HDFC Bank's net profit has fallen below 30 per cent.

Net profit rose to Rs 1,982 crore (Rs 19.82 billion) in the quarter ended September 30 from about Rs 1,560 crore (Rs 15.6 billion)
a year earlier, the bank said on Tuesday. Net interest income grew nearly 15% to Rs 4,480 crore (Rs 44.8 billion).
Asset quality at the third-biggest Indian lender behind State Bank of India and ICICI Bank worsened, with nonperforming loans as a percentage of total assets at 1.1 per cent compared with 0.9 per cent a year earlier.