On Saturday, gold and silver opened below their close on Friday, owing to weak demand resulting from Pitru Paksha, as well as the import duty clarification announced by the finance ministry last week.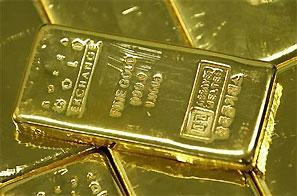 Pitru Paksha, considered an inauspicious fortnight to buy gold, began on Friday. Earlier, the finance ministry had brought out a clarification saying about 20 per cent of the imported gold could be exported. Confusion over import duties had led to imports being held at customs. Now, the 80:20 norm has been clarified.

In the Mumbai domestic market, gold stood at Rs 30,000/10g, down 0.9 per cent, while silver fell 2.5 per cent to Rs 50,275 a kg.

On Friday, gold and silver fell globally on reports the US Federal Reserve might start tapering its bond-buying programme by October. The news led to gold falling to $.05/ounce (oz), down $40.3, while silver fell 5.5 per cent to $21.78/oz.
Data released last week showed positive trends in the US economy and this, too, exerted pressure on bullion prices.
Next week, gold is expected to trade at weak levels due to month-end dollar demand from importers, which would see the rupee weaken against the dollar. "In the international market, it is expected to trade weak and may touch $1,300,, while in the domestic market, it is expected to trade at Rs 31,000- Rs 28,000/10g," said Ajay Kedia, managing director of Kedia Commodities.
Analysts say silver is expected to be slightly bullish compared to gold. Next week, there is no trigger for gold, and prices would continue to seek direction from last week's announcements.
"In the domestic market, the fall in gold prices would be limited, owing to the weak rupee; I expect it to trade at Rs 29,000-30,500/10g," said Naveen Mathur, associate director (commodities and currencies), Angel Broking.