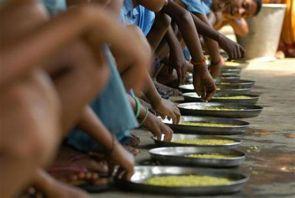 Giving a thumbs down to the Food Security Bill, rating agency Moody's said on Thursday the measure is credit negative as it will weaken government finances and deteriorate macroeconomic situation.

"The measure (Food Bill) is credit negative for the Indian government because it will raise government spending on food subsidies to about 1.2 per cent of gross domestic product per year from an estimated 0.8 per cent currently, exacerbating the government's weak finances," Moody's said in a statement.

Moody's currently assigns 'Baa3' rating on India, with a stable outlook. 'Baa3' means medium grade with moderate credit risk.

The Food Security Bill was passed by the Lok Sabha earlier this week.

The Bill seeks to provide cheap foodgrains to 82 crore (820 million) people in the country, ushering in the biggest programme in the world to fight hunger.

The annual financial burden after its implementation is estimated to be about Rs 1.30 lakh crore (Rs 1.3 trillion) at current cost.

As the Bill is likely to be implemented in the remaining months of the current fiscal, its impact on government finances will be less in 2013-14,
but much more in the years to come, Moody's said.
The total food subsidy budgeted in the current fiscal is Rs 90,000 crore (Rs 900 billion), of which Rs 10,000 crore (Rs 100 billion) is towards the implementation of the programme.
"It will raise future subsidy expenditure commitments, hindering the government's ability to consolidate its finances," Moody's said, adding, the government subsidies will contribute to the already high food inflation.
The agency further said India's fiscal deficits are already higher than those of its emerging market peers.
It said the high fiscal deficit contributes to the Current Account Deficit by keeping domestic demand high and increasing imports.
A high CAD, the difference between inflow and outflow of foreign currency, puts pressure on the domestic currency and fuels prices.
The rupee has depreciated about 25 per cent this year and touched a record low of 68.80 to a dollar on Wednesday.
The Food Bill seeks to provide highly subsidised food grains to 75 per cent of the rural and 50 per cent of the urban population through the public distribution system. It will guarantee 5 kg of rice, wheat and coarse cereals per month per person at a fixed price of Rs 3, Rs 2 and Rs 1 respectively.