At nine-month high, current prices attractive; consumers want to cash in before a correction

In a bid to cash in on high gold prices, individual jewellery consumers with large stock of ornaments have started offloading a part of their holdings. Also, the decline in other asset classes such as equity and standstill real estate has encouraged consumers with business background to cover up a portion of their loss through gains in gold jewellery sales.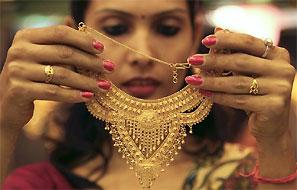 Consequently, used (often referred to as scrap) jewellery sales have increased 15-20 per cent in the last two weeks after a steep decline so far this financial year. This indicates wary investors make quick bucks even in bad times with widespread exposure in different asset classes.

"Scrap jewellery sales shot up 15-20 per cent in the last few weeks. Responding to higher prices, consumers sold a small portion of their jewellery holding assuming the current price level attractive," said Ashok Minawala, a veteran bullion expert and ex-chairman of the All India Gems and Jewellery Trade Federation.

Data compiled by the World Gold Council said gold recovery through melting of scrap jewellery nosedived to 9.5 tonnes in the first quarter of the current financial year, showing a steep decline from 30 tonnes in the corresponding quarter last year. Individual consumers abstained from fresh sale of used gold due to stagnation in prices of the yellow metal during the quarter.

"With the price becoming attractive, especially in the rupee term, consumers attempted to take the benefit as was the case earlier, also before any correction," said Minawala. Since its recent low on June 28 at Rs 25,130 per 10g, standard gold shot up 26.5 per cent to close on Saturday at Rs 31,790 per 10g in Mumbai's popular Zaveri Bazaar.

Gold in the international market jumped 13.22 per cent from $1,234.57 an ounce (oz) to $1,397.75 an oz during the period, the most advantageous support sellers got from a drastic depreciation in the rupee against the dollar. Since June 28, the rupee depreciated 6.67 per cent to close on Friday at 63.35 from the level of 59.39 against the dollar on June 28. On Saturday, too, standard gold moved up by Rs 630 per 10g to hit a nine-month high.

"A lot of consumers are coming in to sell gold as they see the current price attractive. After the recent fall, consumers fear the repeat of the event. But they want to take the benefit of price rise," said Joe Alapatt, managing partner, Alapatt Heritage, a Kerala-based jewellery chain.

The sell-off by individual consumers has actually helped jewellers increase gold availability, which they faced a crunch due to recent guidelines by the Reserve Bank of India. The banking regulator imposed lots of restriction to curb gold import in order to control the burgeoning the current account deficit. The control, especially the mandatory supply of 20 per cent of import quantity for exporters, has squeezed its supply for domestic jewellery retailers.

Also, the government raised import duty on gold thrice this year to 10 per cent currently.

"Consumers see this as a good price for them to sell gold and are selling gold, but we sense that consumers expect prices to move up further and the selling will increase then," said Dhanika Popley, director of Popley Group, one of the leading gold jewellery retailers.

This will provide a major relief to domestic gold refineries that were operating with low capacity due to the shortage of raw material.