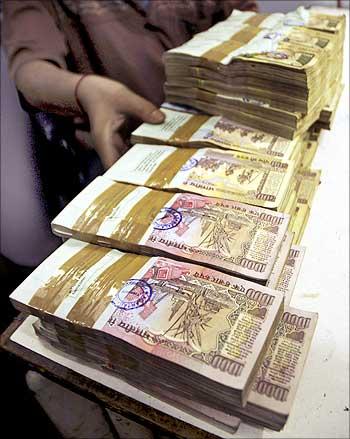 The government has realised Rs 3.75 lakh crore as indirect tax in the April-January period, 74.41 per cent of the target for 2012-13 fiscal, Parliament was informed on Friday.
In a written reply to the Lok Sabha, Minister of State for Finance S S Palanimanickam said that while excise has yielded Rs 1,38,654 crore during April-January 2012-13, collection from customs and service tax, worked out to be Rs 1,34,802 crore and Rs 1,02,322 crore.
For the current fiscal, the government had proposed to collect Rs 5.05 lakh crore through customs, excise and services taxes, an increase of 27 per cent over 2011-12.
The target for customs collection for 2012-13 was fixed at Rs 1.87 lakh crore, for excise - Rs 1.93 lakh crore and for service tax - Rs 1.24 lakh crore.
In the first eight months (April-November) of this fiscal, indirect tax collection had grown at a moderate rate of 16.8 per cent to Rs 2.92 lakh crore.
In the same period of 2011-12, the collection of indirect taxes was Rs 2.50 lakh crore.
In reply to another query, the minister said the government has reverted to the path of fiscal consolidation with an exit from the expansionary measures in a calibrated manner.