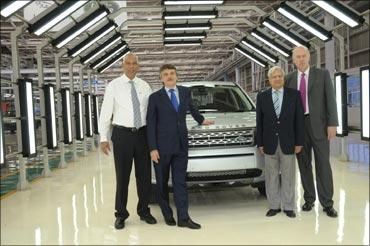 Tata Group-owned luxury carmaker Jaguar Land Rover on Friday opened its first assembly plant in India at Pune.

The plant will initially assemble JLR's sport-utility vehicle Freelander 2 from completely knocked down kits shipped from the Halewood manufacturing unit in Liverpool, UK.

The Freelander 2, which is offered in two versions -- TD4 SE Automatic and SD4 HSE Automatic -- is likely to be priced around Rs 400,000-5,00,000 lower than the imported ones.

Freelander 2 in CKD model will cost Rs 33.39 lakh (ex-showroom Mumbai).

"Assembling vehicles in India has duty benefits which will be passed on to our customers," Tata Motors Group chief executive and managing director Carl-Peter Forster told reporters at Pune.

"Setting up an assembly plant shows Jaguar Land Rover is increasingly becoming a part of India. We have a big commitment to the Indian market," he said.

The Pune unit will initially have 500 employees, he said, without revealing details, including about investment.

Forster said JLR, which was bought by Tata Motors from Ford Motor Co in 2008, is likely to increase localisation of vehicles by sourcing parts from vendors in India. He, however, did not reveal the percentage.

The company has lined up around 40 new products for launch in Indian in the next five years.

"We will bring 40 new products, including engines and new vehicles, in five years to India. We see a huge potential in this market," JLR chief executive Ralf Speth said.

There are plans to source more components from India, Speth said, adding that, "India can become an attractive sourcing (component) base with its high quality and low-cost (market)".

The UK-based company is in talks with the Chinese government and companies there to build an assembly plant in the neighbouring country.

"We are in talks with the China Government and with potential partners there to set up an assembly plant. We have shortlisted a few potential partners, but a final decision has not been taken," Speth said.

JLR is also looking to increase sales points in India to 14, which will by spread across 12 cities, from the present count of four by September.

"We will increase our dealership network to 14 in 12 cities by September 2011," Tata Motors Head (Premier Car Division) Rohit Suri said.

The company sold 891 vehicles in India during the fiscal year ended March 31, 2011.

Tata Motors imports and sells XJ, XF and XK sedans from the Jaguar range in India and the Freelander, Discovery and Range Rover SUVs from the Land Rover stable.
Text: PTI

Image: (L to R) P M Telang, MD, India Operations, Tata Motors; Ralph Speth, CEO, Jaguar Land Rover; Ravi Kant, vice chairman, Tata Motors and Carl-Peter Froster, JLR Group CEO. | Photograph, courtesy: Tata Motors.