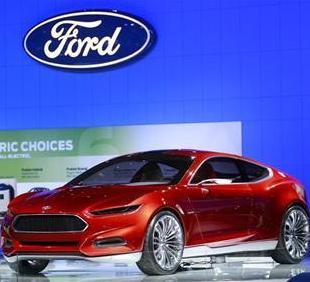 Car maker Ford plans to unveil a new concept vehicle at the upcoming Delhi Auto Expo as the company looks to tap growth in the compact car segment India.
"To serve the specific needs of consumers in India, the concept will showcase Ford's vision for the future in the competitive compact car segment in India and other dynamic emerging markets," Ford said in a statement.
The Auto Expo will be held at the India Expo Mart in Greater Noida, near here between February 5-11.
Asia Pacific is likely to account for nearly a third of Ford's global sales volume by mid-decade, up from 15 per cent in 2010.
"Alongside a stunning new global concept, we're proud to display our exciting global vehicles and the advanced technologies that manifest our promise to go further for our
customers with high-quality products that are fuel efficient, safe and offer smart solutions," Ford India Executive Director of Marketing, Sales and Service Vinay Piparsania said.
Ford India, which is a wholly-owned subsidiary of Ford Motor Company, sells Figo model in the compact segment.

Photograph: Ford Evos concept car at the Washington Auto Show.
Kevin Lamarque/Reuters