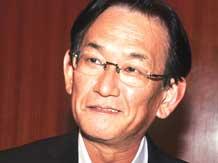 Kenichi Ayukawa, a veteran at Japan's Suzuki Motor Corporation, has assumed charge at the Indian arm at a time when vehicle sales in the country have hit a decadal low.

The recently anointed managing director and chief executive officer at Maruti Suzuki India Ltd tells Business Standard how he intends to get back to over 50 per cent share in the domestic market, apart from a larger role in the parent's global operations.

Edited excerpts:

It's been a few months at the helm. How has the road so far been?

It is a big honour for me to drive the management of the company.

I believe the Indian market has a very high potential.

I want to make it strong, production-wise and quality-wise.

Sales growth in the (Indian) automobile industry is at a decadal low. Even sales of your best selling models such as the Swift, DZire and Ertiga, which have seen you through most of last financial year, are falling. Any initiatives you have taken to reverse this?

We have to review the system.

Good products aren't enough; we have to persuade customers to make purchases. How we approach the customer has become important.

We are trying to develop the rural markets.

We are reaching out to newer areas by including our dealers in the process.

We conducted events in rural areas, small towns.

The events helped a lot in encouraging demand.

We allowed people to touch, feel and drive our products. Such things encourage demand.

Any particular product seeing strong traction in rural areas?

I have seen the first-time buyer is usually interested in the M800, Alto 800, Alto K10.

Some are also going for more premium cars like the Swift.

Maruti Suzuki usually introduces one new product in the market every year. There has been none so far this year. Are you being cautious and changing the trend?

No, we're not changing anything.

This year has just started; there are nine months left.

You can expect something.

A new small car is likely to come in. We would continue to upgrade existing models.

General Motors recently recalled 114,000 units of the Tavera in India, after an internal probe revealed executives had re-fitted pre-approved engines on test vehicles. How are these things getting through the system?

What I see in the newspapers is unbelievable.

Probably, a government committee needs to check the dimensions of this issue.

I cannot understand why these things happen.

Emission norms have to be complied with.

As Maruti Suzuki acquires a larger role in Suzuki's global operations, what synergies would we see with the parent company?

In future, maybe in India we have to take care of new products for the developing markets.

We have to do marketing for these countries by ourselves.

Our product and supply teams here (would) take care of markets in Africa and West Asia.

Maruti Suzuki is in the process of setting up a state-of-the-art R&D centre in Rohtak. Would the Indian engineering team take the lead and develop vehicles from scratch in future?

I think so.

First, we have to develop our engineering capabilities.

That is very important.

Our engineers have gone to Japan and to other countries also for training programmes. It will happen over time.

There is a criticism that Maruti Suzuki, despite operating in India for nearly 30 years, does not have Indians at the board level. Are there any efforts to change that?

Already, 13-14 Indians are involved in our management.

In the case of Japanese, they come for three to five years; Indian people stay.

We have Sudham Maitra for supply chain management, H Siddiqui for administration, M M Singh in charge of production processes.

Your predecessor said he wanted Maruti Suzuki to attain 50 per cent share in the domestic automobile market. He said it was his dream. What is your target?

I also think so. If possible, we will enhance it.

What is your number?

(laughs) I said we will enhance.
Image: Kenichi Ayukawa ' Photograph, courtesy: Business Standard