Country's largest car-maker Maruti Suzuki India on Thursday reported 49 per cent jump in net profit at Rs 631.6 crore (Rs 6.32 billion) for the first quarter ended June 30, 2013.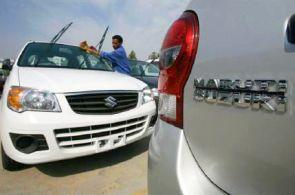 The company had posted a net profit of Rs 423.77 crore (Rs 4.24 billion) in the corresponding period last fiscal.

However, net sales during the quarter under review stood at Rs 9,995.12 crore (Rs 99.95 billion) as against Rs 10,529.24 crore (Rs 105.29 billion)
in the same period a year ago, the company said in a statement.
In terms of volumes, sales were down by 9.98 per cent to 266,343 units as against 295,896 units in the year-ago period.
Shares of Maruti Suzuki India were trading at Rs 1,404.85 apiece in the afternoon trade, down 0.78 per cent from the previous close on the BSE.