The company adopted the scheme from parent Suzuki, where employees are rewarded for making suggestions to improve productivity and cut wastage.
It pays to listen to your employees, literally. Maruti Suzuki India, the country's largest car maker, could save a handsome Rs 354 crore (Rs 3.54 billion) in FY13 by paying heed to their workers' suggestions to improve productivity and cut wastage.

Ever since its inception in the 1980s, the car maker has been engaging its staff across various levels and incorporating their suggestions.

During the last financial year, it received over 396,000 suggestions from its employees, which eventually resulted in the savings. In the previous year (FY12), there were 320,000 suggestions, which led to cost savings of over Rs 294.2 crore (Rs 2.94 billion).

Guiding principle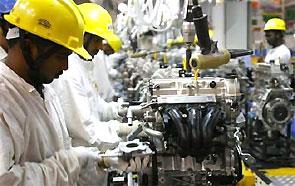 "The guiding principle here is every employee, irrespective of his level, has the best knowledge of his work area. He is encouraged to look around his work area and come up with improvements that will enhance productivity, bring simplicity, save cost, energy, raw material, etc. Interestingly, each year, the cost savings arising out of these suggestions have gone up," said S Y Siddiqui, chief operating officer - administration (HR, IT and finance) at Maruti Suzuki India.

The suggestion scheme, adopted from parent Suzuki Motor Corporation, has seen employees being rewarded every month in both cash and in kind. Most ideas relate to improving quality and reduce costs, ways to speed up operations, improve efficiencies and streamline supplies. Some suggestions even helped improve efficiencies of the robots used on the shop floor.

"For instance, fool-proofing at line operations is very critical for our organisation. We felt the need to introduce fool-proofing at one of the locations and thus developed a small machine in house for the same. The total cost of development is around Rs 50,000. Had we bought the machine from outside, it would have cost us Rs 850,000, resulting in savings of Rs 800,000," said Siddiqui.

This scheme is being practised at many of Maruti's vendors as well.

There is also an on-line version, Sujhav Sangrehika, which gives real-time update on suggestions.

"To strengthen idea generation across business functions we are also organising specific training on Kaizen (continuous improvement). Through these workshops, we are requesting individuals to constantly challenge the status quo in their disciplines. These training programmes are helping them develop this ability and mindset," Siddiqui added.

After the ideas are implemented at one location, they are replicated at others to reach out the benefits on a larger, company-wide scale.

For example, a body-loading system installed in the vehicle assembly section increased the capacity by 80 vehicles a day at a cost of just Rs 15 lakh. This automation was done within a period of three months. In contrast, a new capacity to make 80 vehicles would have cost several crores," said Siddiqui.