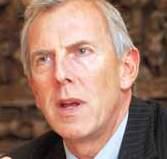 Vodafone India MD & CEO Marten Pieters, 59, blames regulation and the spectrum policy for the telecom industry's troubles.

Edited excerpts of an interview with Business Standard:

Telcos are talking about a rate increase. Is the worst behind for the industry?

The worst is perhaps behind us on the rate front but not on the economic situation, because of the big one-time payments the government expects from us.

In our case, the expected payment for one-time spectrum fee is Rs 3,600 crore (Rs 36 billion), though we think it is less.

And, then, we have the licence extension for three metros next year and some circles that are state-focused.

Together, it is another Rs 26,500 crore (Rs 265 billion).

So, the government wants Rs 30,000 crore (rs 300 billion) from us. Even for a big firm like us, this is an enormous amount. There seems no end to it. This is a life or death situation for firms.

So, what is your company's strategy to deal with it?

We are committed to India.

Since we acquired the company five years ago, we have invested over Rs 50,000 crore (Rs 500 billion).

The strategy has not been to hold back, though I am sure there would be other nations in the world that would like to see investment in telecom.

I think economics will not work positively with these high spectrum prices.

We have always asked two simple things: One, can we please get a level playing field?

Two, please make enough spectrum available through auctions. We are now in a situation where the government, more or less, forces us to go into the auction.

It says, if you do not participate, you cannot extend your licence. Actually, the reserve price is so high, you do not want to participate at that level.

It seems the government's short-term need for money is always overriding the long-term, more strategic aspect.

Your primary mandate was to take the company public. Do you think you will be able to execute it?

I hope so.

I hope the government allows me to do it.

A good company in which people can buy shares is good news for everyone. I hope that happens but, yes, there are some big elephants in the room that need to settle down.

You talked about a level playing field. Isn't the entire industry complaining of the same?

Well, there are certain levels of inequality.

MTNL (government-owned Mahanagar Telephone Nigam) got third-generation spectrum without any auction all over the country and a year before the rest of the industry got it.

That's not fair; they should have participated in the auction and they should not have got it a year earlier.

Now, apparently, the government is saying everyone has to make a one-time spectrum payment.

But they will bail out BSNL and MTNL because the industry is in such a bad shape; that is funny.

Then, of course, we know GSM operators have been complaining about what we call the backdoor entry of CDMA players.

If you look at total spectrum holding between dual technology players and GSM players, all the payments done in the last three year are actually by three guys.

The rest are having a relatively free ride.

This is because of the way different slabs work and different spectrums are being treated, and you see it again in the one-time payment.

You look at Bharti Airtel and Idea Cellular and what we are paying and look at Tata Teleservices and Reliance Communication and what they are paying.

It is very smartly managed in a way that we feel is not fair.

If the policy framework remains what it is today, can we expect Vodafone Plc to divert its investments to other geographies instead of India?

That is the shareholders' decision.

For an MNC like Vodafone, there is a certain pot of money for investment every year. We are in 30 countries, so Vodafone has a choice. It can put it here or in South Africa or Egypt.

But it is not going to give up easily.

It is just not good news for the shareholders.

I think it would be far better for the country if we get spectrum for a lower price and invest the same amount in the network. At least you get connectivity back for it.

Now the money goes to the government; it is like paying tax. We should be investing in sustainable connectivity for the country and we have said over and over to the government that is much better news than the short-term payments.

I understand there is a budget deficit and I understand there is a short-term problem.

But if you want the economy to flourish, you have to make sure companies are able to keep investing. Also, it is a competitive issue among the countries.

Let's be fair. India is full of MNCs which do more and more outsourcing here, so having infrastructure is a basic thing.

How is the IPO (public offer of equity) going to help you out?

If you have to do more payment to the government for spectrum, then equity is a way of raising capital.

But that is really not the reason to do it; the Vodafone group is financially very strong. It has very big cash flow.

We want to be seen as an Indian company and apparently that can far better be anchored if we are a listed company.

Besides, we still have a rule that makes 26 per cent local ownership in an Indian telecom company mandatory.

For a company like ours, it is not easy to find people who can put a few billion dollars at the table to buy 26 per cent.

And, investors ask you about the exit. If there is no listing, then there is no real exit; no one guarantees you can sell the share three years or five years down the road.

What is the expected time line for the IPO?

There is none; we will see what exactly is the outcome of the auction. Even if it is a bad outcome, you can at least do your calculation. Today, it is virtually impossible to do. I just heard that Idea has got a stay from the Mumbai high court for the one-time spectrum payment. So we really do not know if that is going to happen. We think the government is breaching our contract. We think that a licence is a contract. But it is in court and it can take some time. About your operations, are you disappointed by the too-slow adoption of 3G (third-generation services)?

It is the other way round.

There was not much 2G (second-generation) data used in the country earlier.

But the 3G auction got a lot of publicity, as these were postponed a few times. Hence, there was a kind of wave of media attention, that 3G is coming, data is coming.

Actually, what we have seen is that it has probably just stirred up and a lot of customers who still do not use 3G data have started using 2G data. Then, over time, most customers will move to high speed data.

Bharti Airtel is now rolling out 4G (fourth-generation) operations and RIL has an aggressive plan for this. How worried are you?

I'm not really optimistic on 4G being very quickly successful. They auctioned the spectrum three years ago and what has happened since then is very little.

If you take another three years and expect that it booms, the answer is no. If we look at 3G three years down the road, it would still relatively be a small business.

The real issue always is, you need to be in mainstream technology and in LTE (long-term evolution), it is really difficult to say where mainstream technology is going.

Behind this three-letter word, there is a world of difference in the technologies from where it is coming in and frequency bands used.

Different countries use different frequency bands. In the end, that needs to harmonise to the level of a band on which the handsets work. It is all about the eco-system.

How far is 4G in Vodafone India's plan?

We will be using every technology.

As many things in life, it is all about timing. If it is too early, it is not smart. You should also not be too late. I am not worried here that I am too late. I will be far more worried that I will be too early.
Image: Marten Pieters | Photograph, courtesy: Business Standard