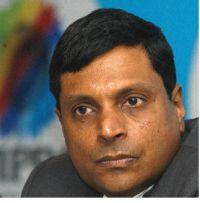 The financials of Wipro in the first quarter were lacklustre when compared with its peers.

The company, which embarked on a transformation two quarters ago, seems not perturbed and hopes to be back on a strong growth path by the third quarter.

T K Kurien, CEO, IT business, throws light on the company's strengths of weaknesses and its strategy in a discussion with Bibhu Ranjan Mishra and Pradeesh Chandran.

Edited excerpts:

The restructuring doesn't seem to have be paid. Are you satisfied?

Our performance is on expected lines. We managed to meet the midpoint of our guidance.

The new structure started working from April 1. When we did the restructuring, we were clear that we won't be able to deliver outstanding performance in the next two-three quarters.

Nothing today makes me believe that we would get the results ahead of that timeline.

You might have met the guidance, but the other parameters are telling a different story.

We have done better than our competitors even in terms of margins. We have defended our (operating) margins despite the salary rise given last quarter and increase in our sales and marketing expenses by 0.6 per cent for the whole quarter.

Your volume growth this quarter is the lowest in the industry, so far. Why?

The volume growth of 1.8 per cent is not something we would have liked it to be.

If you are able to do a couple of short-term deals, the volume goes up. We are looking at it from a medium-term perspective.

We want to come out with a really good performance and drive a sustainable growth.

Is there some headroom to improve your utilisation?

Our utilisation is very much comparable with other leading industry players.

In the last quarter, we added 4,150 people, which is higher than some of our competitors.

When these employees finish their training and join the work pool, it will drive our utilisation further.

Despite a salary rise, attrition in Wipro is high. Is it not a concern?

Attrition at the end of this quarter had gone down by 5 per cent from what it was in the beginning of April.

It is too early now to say what will be the attrition in the ongoing quarter. But I can say it is coming down.

It is being said that the restructuring has made 200 jobs redundant. Is this true?

Yes, absolutely. But the numbers are lesser than what you mentioned. Those jobs don't exist now and those people have exited now.

You have done well in account mining. How close are you to your plan to have at least one mega customer of $500 mn (in annualised revenue)?

Our ambition is to get a $500-million customer. But for an IT services company, to have one client who can fetch revenue of $500 million, is a bit difficult.

I think there is only one company which has got a $500 million customer. But our focus on mining existing top accounts better continues.
Image: T K Kurien