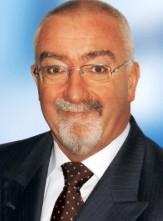 Albert Hieronimus, new chairman of the board of MindTree, is not new to Bengaluru.

A person passionate about exploring India on wheels as the managing director of Bosch Ltd (previously known as Motor Industries Co Ltd) for almost six years, he is heading MindTree at a difficult time.

After deciding to scrap the telecom product business after investing about $8 million, its founder-chairman Ashok Soota left.

Hieronimus tells Bibhu Ranjan Mishra and Pradeesh Chandran, he is optimistic. Edited excerpts:

How are you going to allay the fears of investors after all these developments?

Yes, there is a problem in the short term.

But in the medium and long term, it won't be there because of our fundamental strengths.

These brought this company from zero to $300-plus million revenue in a record time.

Maybe we got a little distracted in the past two years by sacrificing too much in focusing on the goal of becoming a $1-billion company.

Growth is necessary, but only profitable growth helps.

We have decided to shut down a business which affected our figures last year. It won't have any impact in 2011-12.

Were you not part of that decision? What went wrong?

Yes, I was.

This (smartphone product business) market requires very different competencies.
We either underestimated this or realised it late.

Second, when you go broader in this market, it puts very different kinds of risks, such as inventorial risks, which a big company can easily manage.

For us, it could have been a killer one, and we decided to stop this.

A lot of management attention that went for this business could have gone to some other areas.

Did the management get distracted because they became over-ambitious?

Any new business always makes the management deviate from priorities in terms of giving full attention to the current businesses.

It is like when there is a new baby in the family. We have corrected this now.

Is your aspiration of reaching $1-bn in revenue still there?

It is, but we are not giving a deadline.

Since Ashok Soota decided to quit, there is a lot of talk that MindTree might be up for sale and people are even raising doubts about survivability.

Soota was part of MindTree, but he was not MindTree.

These discussions and irritations (that MindTree is up for sale) happened in public but not in the company.

The company has 10,000 minds, a strong team, customers who are least perturbed.
Soota says he has taken the 'happiest minds' with him.

Can you name any? Let him talk about the stories and make noise. I found the way he exited a little unprofessional.

You do it not by going to the public and then telling it internally.

It is not very professional to tell each and everyone that 'I have no non-compete; therefore, I will start a business in the same area'. If he wants to do, let him.

Many of your existing customers could decide to go with him.

Why? If he (the customer) is happy with MindTree, he will stay with us.

If he is not, he will not go to Soota because he will do the same as MindTree was doing.

We have not lost any client because of this. Except, when we acquired the business (MindTree started the smartphone product business with the acquisition of the Indian captive R&D unit of mobile technology provider Kyocera Wireless), it had a big client along with it.

When we exited the business, we lost the client, who was not part of our core business.

Is it true that Soota does not have any non-compete clause?

He had, but that has expired. We welcome fair competition. But the question he has to answer is if the world needs another MindTree.

Are the employees concerned?

The people in MindTree are the biggest asset we have. Go down the line; these people are still 'happy minds', though not the 'happiest'.

You added just a few hundred employees last quarter, which is low.

Recruitment in the last two years was driven mainly not by growth, but by unwanted attrition.

The attrition has come down and we expect it to come down further.

We have to link our hiring to our pipeline.

We are not such a big organisation as to hire people first and then look for business.

Are you planning to enter any other specialist business?

One painful and costly mistake we did last year was to enter a new business without 100 per cent clarity -- without understanding the business and its requirements.

If we plan to enter into a new business, our due diligence will be more careful.
After the global economic recession, what, are going to be the new opportunities for mid-sized companies like MindTree?

One lesson global clients have learnt from the recession is that this infection is not restricted to any part of the world.

Some of those which felt disappointed by going for single sourcing are now looking for multi-sourcing.

This provides a big opportunity for companies like MindTree.

Image: Albert Hieronimus