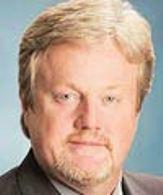 It has been over two years since Hewlett Packard (HP) acquired services company Electronic Data Systems (EDS) Corp for $13.9 billion to take on market leader IBM.
However, after spending almost a decade in India, the second largest global IT services company is way behind the likes of IBM, Accenture and Cognizant, among others in leveraging its position as an enterprise services provider in the country.
Now, the enterprise services arm that contributes roughly a fifth to HP's revenues is not only looking at India as a market but also a centre to leverage its global business.
Sean Kenny
, senior vice-president (Industry Services) of HP Enterprise Services, shares his thoughts on the company's India initiatives with
Shivani Shinde
. Edited Excerpts:
How important is India for HP's Enterprise Services play?

We see India as a very important market for HP. We grew in India by 29 per cent last year. Hence it is important both as a domestic market as well as a centre for global development work.

As a company, HP has been in this market for a decade and although everyone is used to seeing India as a centre for outbound work, we see it as a market where HP can grow tremendously.

We see huge opportunity around application transformation - we are already witnessing a movement within Indian companies from first generation technology usage to a more standardised and simpler software packages usage.


What will be the focus area in India?
We have presence in five main industries - healthcare, transportation, communication, media and entertainment, financial services, and government and the public sector. These verticals are important as we have a unique intellectual property (IP)-based offering.
For instance, we have been working with the Centre for Railway Information Systems (CRIS). We also made a commitment to the travel industry globally when we launched AgileAir. We have decided that some of the coding work on the platform will be done from our India centre.
India will also be key as we have made a commitment to deepen our IP-based offering. Last year, we moved the management and development of our healthcare vertical to India.


We also feel that we have enough IPs but we have not commercialised them customising it to a certain geography or client. We have done tremendous work with the government and public sector across the globe. We will also be creating platforms so that they can be replicated at other client base.


HP had announced a $1 billion investment last year. How much of that will come to India?

A vast majority of this investment is being used for our expansion in India. We will be setting up two centres in India - one each in Bangalore and Chennai. We will also be hiring aggressively in India. We see this as a key cornerstone for future growth. Within Asia, we want to grow in markets like India, China and Japan.


Compared to competitors like IBM and Accenture has HP been a bit laggard in leveraging its position in India?

When we acquired EDS, it was struggling financially and it did not have enough capital to invest back into the business. One of the solutions to overcome this was to acquire Mphasis. But it was just one solution.


On the other hand HP did not have an application business like EDS. Our application business was one of the key corner stones of the enterprise services. It is a $25 billion entity. The opportunity is to make investment and take this ahead. Our CEO Leo Apotheker, is a proponent of growing in India. Not just since he took over HP but since his SAP days.


We have learnt from mistakes from some of the others. We have been laggard. So we are making all the investment and growing in regions.
How does Mphasis fit into HP's overall strategy and do you plan to demerge the company?

Mphasis is a key part of our delivery. Always has been. What may happen to EDS-Mphais is something that I cannot talk about. Mphasis and HP Enterprise services do work together. We are very strong in healthcare and transportation. Mphasis is strong in financial services. They have done horizontal BPO work, that's an area where Enterprise Service is not involved.


If we look at the October number of HP, the BPO business seems to be under pressure. How do you think HP would like to change its BPO play to gain maximum market share?

Our BPO offering will also be driven by our focus in the five industries — healthcare, communication, media & entertainment, government and public sector and financial services.


My take of the BPO industry has been that the initial promise of BPOs, was around making processes cheaper and better. Most of the work that the BPO industry has been doing over the last two decades has been driven by labour arbitrage play. In such a scenario customers get dissatisfied as firms do not get the benefit of transformational change. It becomes an exercise to free up cash. But that seems to be changing, as we see a turn-around in the industry.


For HP we are starting to see IP-driven BPO offering. We have done many projects in the healthcare segment and we have seen good traction. We are seeing the same in the transportation vertical.


Many of your competitors and peers have used India as its offshoring strategy. This also allows them to give clients a better pricing benefit. Any comments?

The labour arbitrage play is over. That is not one of the reasons why we are here. Half of my global management team is Indian. You are talking about people who have tremendous business experience and talent.

When I talk to an American Airline and say that we are going to do some critical development work in India, they are not bothered about it. I think that most customers from a BPO or Application process perspective are looking at best shore strategy. Getting it just out of the US is not the strategy any more.


I believe that the next big wave that is going to drive growth in India is the centre of excellence around some important business processes. There is not a lot of India-based BPO play here but there is interest for IP-based BPO offering.


As part of the integration with EDS, HP had announced 9,000 job cuts. Any comments?

A lot of that went back to the original integration plan of EDS. Vast majority of that has been done. The focus of this rationalisation was to do away with redundancy. But at 310,000 people we are also growing fast.


You are also focusing on India when there is a lot of anti-outsourcing buzz in the US.

You do not hear that in the US. Every major organisation deals with outsourcing. They need to on competencies. Whether it's the government sector or the private.