'For years we train for the Olympics and when we are this close, how can we stop training?'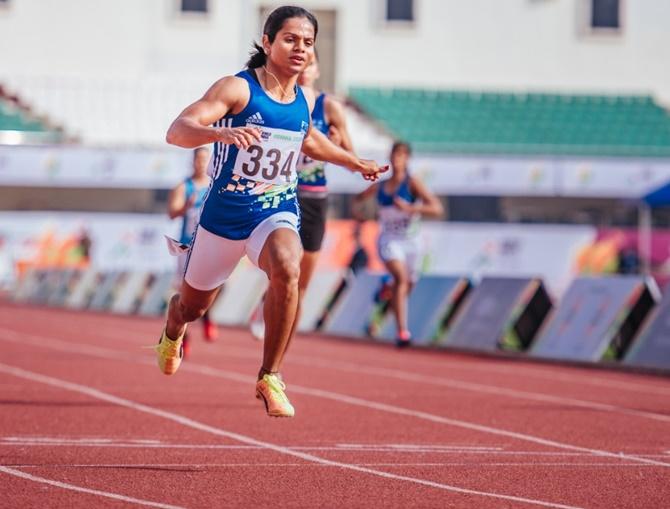 Japanese Prime Minister Abe Shinzo insists that the Tokyo Olympics will be held as scheduled in July.
The cancellation of several sporting events following the coronavirus outbreak has hindered athletes's attempts to rise through the world rankings.
Many of them who need additional competitions to improve upon their ranking in order to qualify for the Olympics could miss out on the Games for lack of points.
India's ace sprinter Dutee Chand is among those in a quandry. This "tension", as she puts it, is forcing the 24-year-old Asian Games silver medallist to step out amid coronavirus fears and train at the Kalinga stadium in Bhubaneswar.
"I am yet to qualify for the Tokyo Olympics," Dutee tells Laxmi Negi/Rediff.com, "hence, I cannot afford to stop my training."
"The problems are many for me because a number of training camps in Germany and other countries are cancelled," she adds.
With the government limiting movement across the nation to contain the coronavirus, Dutee is forced to think about life without training.
"The first case of coronavirus in Bhubaneswar was reported last night (Monday, March 16), and with that I am unsure about my training further," she laments, adding, "Until this morning I was just going from the stadium to my room. I made sure that my room was clean and the food which I consumed is cooked here in my room."
The stadium in Bhubaneswar is shut, but Dutee and her coach have requested the authorities to grant them permission to use the track.
"We are cautious of not touching anything, just minding our business and moving on."
In her first competitive race this year, Dutee won gold in the 100 metres dash at the Khelo India University Games in Bhubaneswar.
With her competitors nowhere close, the National record holder bagged gold with a timing of 11.49 seconds. However, the effort is not enough to qualify for the Tokyo Olympics as she needed to clock 11.20 seconds.
She has another chance to attain the qualifying mark at the Indian Grand Prix series which is scheduled to be held at NIS Patiala on March 20 and 25. However, Dutee doesn't sound too optimistic about the event.
The reason being the competition. "The 100 metres list should have eight participants at least. I am not sure, with the current situation, that would be possible," she says.
"And even if there are participants, it won't be a competitive field. If my competitors are clocking 11.50 seconds, how can I touch 11.15?" she asks.
"Athletics is not like cricket; we feed on the competition and that makes us bring out the best in us."
At the National Open Athletics Championships in October 2019, Dutee broke her National 100m record with a time of 11.22 seconds.
With the women's 100m cut-off time for the 2020 Olympics being 11.15 seconds, the 24 year old will have to shave at least 0.07 seconds off her best in coming qualifying events.
She hopes the IOC and world athletics body will show flexibility to allow athletes to qualify.
"Those who have qualified for Tokyo can take a break and focus on strength training at home, but someone like me whose fate is hanging by a thread cannot afford to do that," Dutee says.
"For years we train for the Olympics and when we are this close, how can we stop training?"
Even as others around her try to explain to her that there is always the next Olympics, Dutee wants to give her best every day.
She points out that so far only nine Indian athletes -- including javelin thrower Neeraj Chopra, Avinash Sable (men's 3000 m steeplechase), Irfan Kolothum Thodi (men's 20 km walk), Bhawna Jat (women's 20 km walk) and Shivpal Singh (men's javelin) -- qualified for the Olympics because of field events held abroad.
Track events though have suffered. Hima Das (400 metres), Jinson Johnson (men's 800 metres) and Muhammed Anas (men's 400 metres) are yet to qualify.
World Athletics has insisted it will adapt its qualification system if more events are cancelled in the weeks and months ahead.
'Athletics is in a relatively good position because we have a very flexible system and the qualification period began more than 10 months ago,' a spokesperson insisted.
'While many international events are being cancelled, some athletes will still be able to do further qualifying competitions in their own countries over the coming months,' the spokesperson added.
'We will publish a full 'Road to the Olympic Games' tracking tool on our Web site by the end of March to help athletes to see where they stand.'
"If the cancellation of events and restrictions on travel begin to disadvantage certain countries or athletes, we will adjust it, and we will also assess any individual cases that are brought to us.'