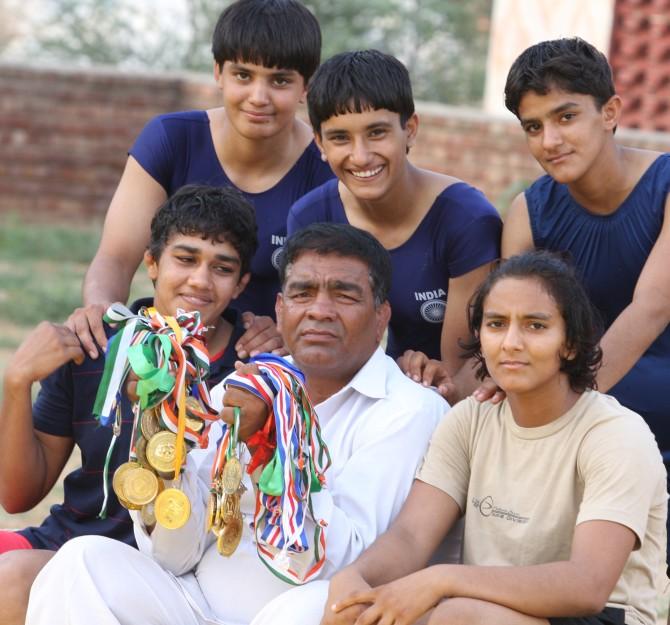 For a few more minutes of shut-eye.
For a few less minutes of training.
The man who inspired Dangal tells Saurabh Duggal how the quest for an Olympic gold began.
While his daughters reveal how they occasionally managed to get the better of their determined father.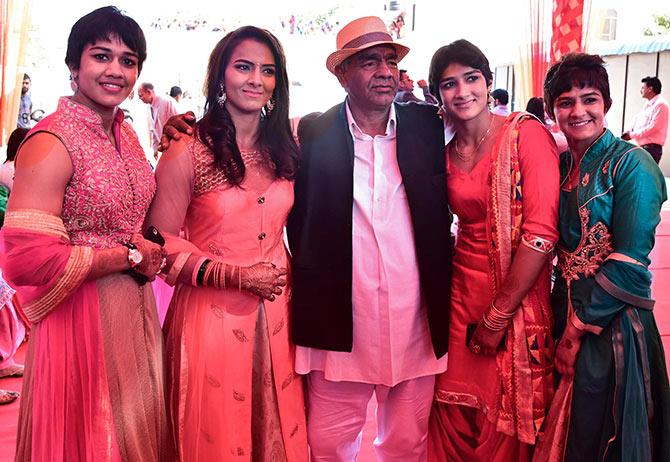 IMAGE: Mahavir Singh Phogat with his daughters Babita Kumari and Geeta and his nieces, Ritu and Vinesh, at Geeta's wedding.
Having quit wrestling in 1987, Mahavir's association with the sport was limited to watching a dangal (a rarity for him in those days) or being invited to a dangal as a guest of honour.
He had never envisaged becoming a coach, either during his wrestling days or following his retirement.
His guru Master Chandgi Ram's introduction of his own daughters to the sport in the mid-90s had not particularly caught his fancy, even though Mahavir himself had three daughters at the time -- Geeta, Babita and Ritu.
"For me, wrestling was limited to boys as I had never seen women slugging it out in mud pits before. Naturally, I never imagined my daughters could be wrestlers."
"For that matter, no child in my family was into any sport, as our village lacked sports facilities. The children only engaged in games like hide-and-seek or marbles, or spent their evenings frolicking through the village lanes."
"All this changed after the 2000 Sydney Olympics," says Mahavir, referring to his crucial decision to train the children in his family to one day win an Olympic gold.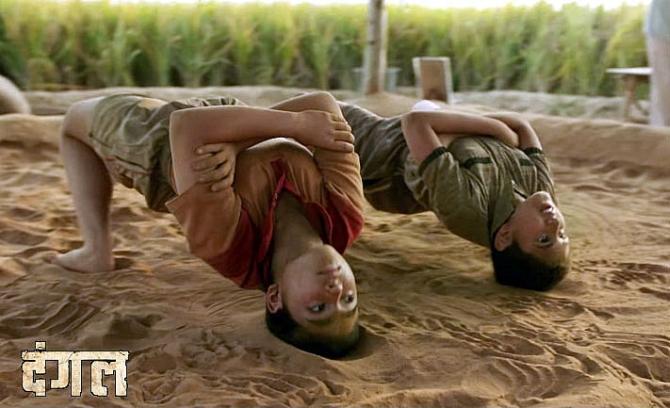 IMAGE: A glimpse from the film, Dangal, which has opened to rave reviews.
As he had spent most of his youth pursuing wrestling, the combat sport was his natural choice while leading his family's children into the world of sports.
However, he knew as soon as he had made the decision that just a wish was not enough. There was no akhada or wrestling centre in their village or its periphery. So he concluded that his first task would be to prepare a mud pit.
"Without letting anyone know of my plans, I started digging a mud pit right in my courtyard and finished preparing it in a couple of days. Aware of my wrestling career, onlookers presumed I was preparing the pit for my personal workout," says Mahavir.
"We are six brothers and, except for one who was working as a government teacher in Rajasthan back then, all our families lived in Balali."
"These five families had 12 children, including five girls. One evening, I told all the children to be at the pit the next morning to start wrestling and they were all there at the break of dawn."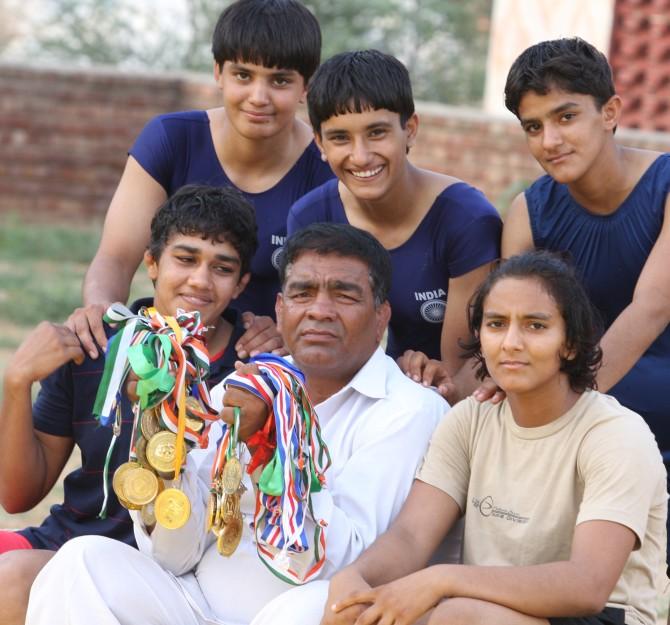 IMAGE: "My ruthlessness was all for their benefit. I hope they won't hold all those punishments against me now," says Mahavir Phogat. Photograph: Kind courtesy Samuel
Having been summoned to the mud pit, the children were enthusiastic about getting a chance to have some fun. Little did they know that that fateful morning would lead to toil and pain for days, and even years, to come.
"I was only 12 and, barring one of my male cousins, the other kids were even younger than me, some as young as six. So one can imagine how seriously we took my father's decision to train us initially," says Geeta, Mahavir's eldest daughter.
"We thought it would allow us to play together and we'll have some fun. But on the very first day, my father's intentions became clear to us. The tough training session did not give us a minute to relax."
"It left not just the girls but even the boys high and dry. We were unseasoned and took a couple of days to get acclimatised to the training regime. I remember how, for the first few days, I was so exhausted that I would sleep through most of the day in school."
"Ironically, my love for the sports period soon fizzled out, and I would just use it to relax in a corner of the classroom," adds Babita, who was 11 years old when she started wrestling.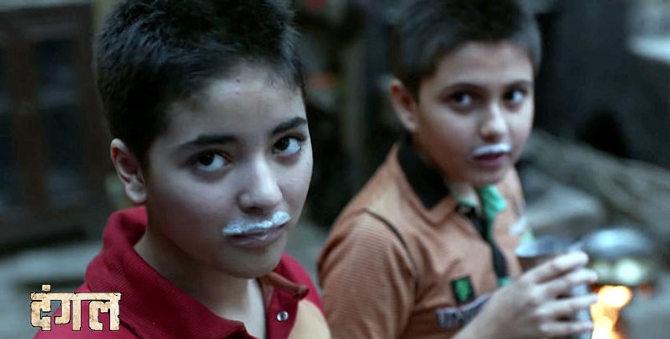 IMAGE: Once the children entered the mud pit, the girls were told to forget their reservations and exude the brute strength usually expected from boys, as is aptly reflected in the film.
Among the girls, her cousin Priyanka was eight, and cousin Vinesh and sister Ritu were six.
Once the children entered the mud pit, the girls were told to forget their reservations and exude the brute strength usually expected from boys.
It is this indifference to their gender and the unbiased environment provided to the children that became their strength and has continued to influence their performance in the world's biggest sporting arenas.
Meanwhile, every member of the family was shocked at the harsh training of the children and, in the initial days, wondered if Mahavir was meting out punishment for their earlier antics.
Not once did Mahavir's true purpose of producing Olympic champions cross their minds.
* * *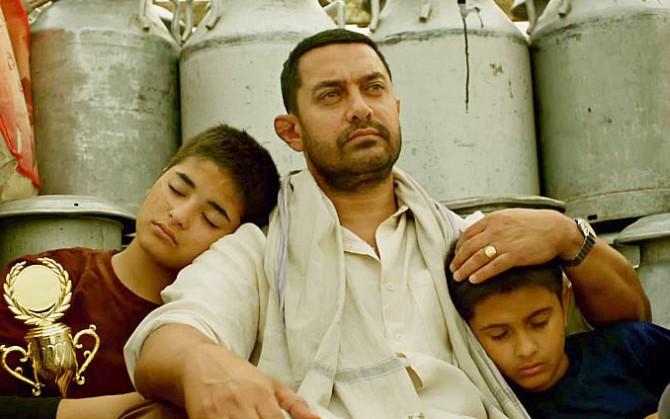 IMAGE: Mahavir Phogat's efforts begin to pay off. Aamir Khan with his exhausted daughters in the film, Dangal.
Even as the children looked for escape routes to evade training, Mahavir had strict instructions issued to his family members, to be followed even in his absence.
"While we could dodge training for a day if my father was away, my mother and her sister were instructed to see to it that we went running. But, instead of running, we would take our bedsheets along and sleep on the running track Papa had made near the fields," Babita chuckles.
A firm believer in the philosophy that persistence is essential for success, Mahavir soon figured out what the children got up to in his absence, and drew up a road map to thwart them.
"I have no idea how he came to know that we were skipping running in his absence. But there on, he started hiding in the fields to watch us train. While we would be frolicking or sleeping in the fields, he would swoop down on us out of nowhere, leaving us shocked beyond measure."
"As soon as we saw him there, we knew we were in big trouble," adds Babita.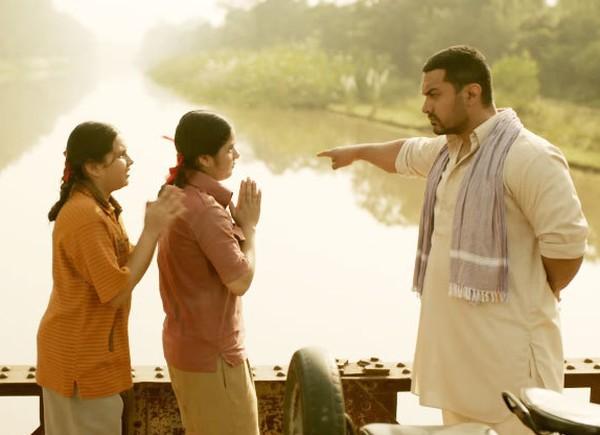 IMAGE: There is no respite from the training. A scene from Dangal.
Sharing one of the many incidents of his trainees' mischief, Mahavir recalls, "I don't exactly remember whether it was winter or summer, but I had once gone to Rohtak for some work and from there had had to rush to Delhi."
"When the children got to know I was in Delhi, they assumed there was no chance of my returning the same day. They thought they could use this opportunity to skip training the next morning."
"Much to their dismay, I returned to Balali around 4.30 am the next day and went straight to the fields to see what they were up to. To my surprise, I saw them sitting idle in the fields. When I questioned them about their training, they had a story ready," laughs Mahavir.
"According to them, they had just completed their workout and were relaxing. The morning session usually began at 4 am, so it was impossible for them to have finished the session in 30 minutes."
"When questioned further, they lied through their teeth and told me they had arrived for training at 2.30 am. They could see that I didn't believe a word of it, but they kept talking, telling me that they had begun their training early since their alarm clock had gone off at 2 am."
"I merely told them to form a line and punished them severely."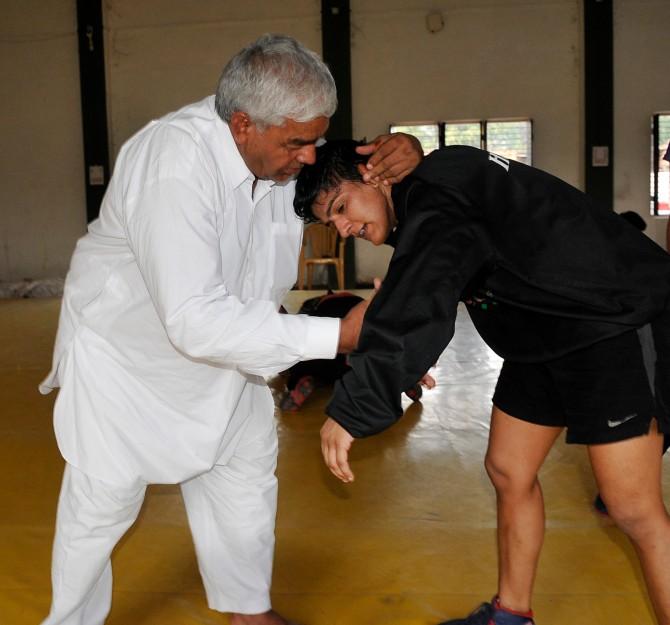 IMAGE: Mahavir wrestles with Ritu during a training session. Photograph: Kind courtesy Karun Sharma
"Seeing their half-heartedness to train, I made it a point to do surprise checks occasionally."
"If I got late coming home, I would park my vehicle far away so that the children would think I hadn't returned when they woke up the next morning. Then, after half-an-hour or so of their training time, I would go to the grounds to see whether they were training," Mahavir says.
"I had to take these measures to ensure that they were disciplined and trained with sincerity even if I was not around. I know now that they would not have achieved what they have had I not been strict."
"My ruthlessness was all for their benefit. I hope they won't hold all those punishments against me now," he smiles.
* * *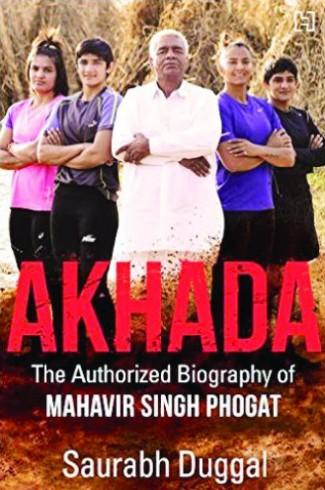 The children's hope of skipping any training session started to slowly fade away.
Neither rain nor their tricks could help them now until they realised that they had to wake up only when Mahavir did, since he wouldn't let anyone sleep a minute longer than him.
"The training made us realise how much we loved our sleep. It became our biggest luxury. We had already been training for four years when we moved to the hall, and except Ritu, Vinesh and Priyanka, all of us were in our teens," says Geeta.
"Over the years, all our tricks had eventually failed, but each experience made us cleverer," smiles Geeta.
"Soon we realised that catching some more shuteye was only possible by either postponing the alarm or dismissing it before it went off so that Papa did not wake up."
"Changing the alarm was somewhat risky, as Papa himself set the alarm. Hence, we worked on stopping the alarm before it went off."
"We knew the cost of being caught -- a round of spanking with whatever Papa could lay his hands on. But that was nothing compared to gaining those few extra minutes of precious sleep."
"When we cancelled the alarm, Papa would ask us why the alarm didn't ring and we would instantly act surprised and innocent," Geeta smirks.
While Mahavir managed to move the wrestling sessions indoors to escape the rains, training inside would often be disrupted for want of light.
Training at dawn, especially in winter when the sun rose late, became difficult in the absence of tubelights. Worse, the power supply in the village was quite erratic, and continues to remain so a decade later.
Mahavir saw only one solution to this, and arranged for a power inverter that would supply uninterrupted power to the wrestling hall. But his mischievous trainees managed to find a way to disrupt this plan too.
"We would plug in an iron or other electrical appliances that needed more current to the inverter while the power was out, to quickly drain the inverter's battery," grins Babita.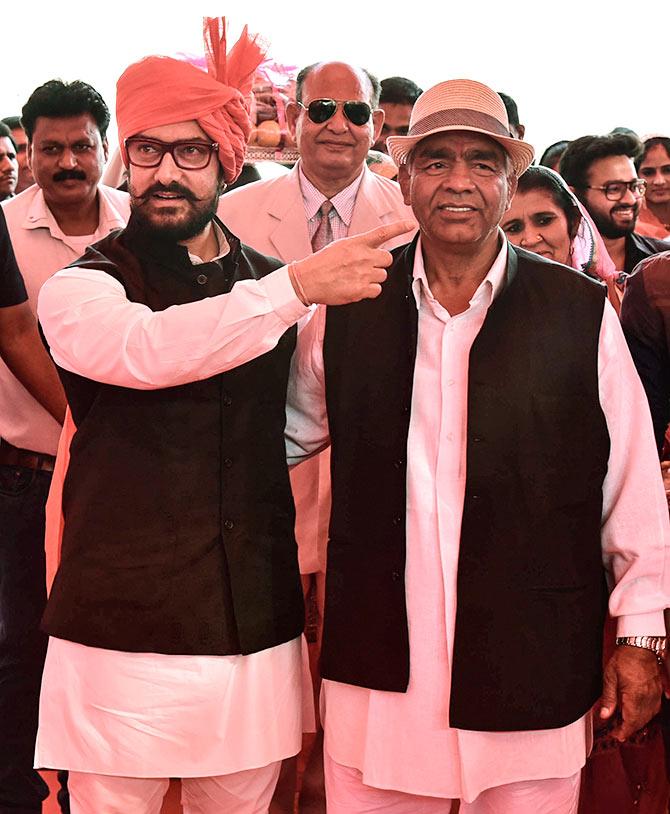 IMAGE: Aamir Khan and Mahavir Singh Phogat are all smiles at the wedding of the latter's eldest daughter, Geeta. Photograph: Yogesh Shah
This was a flawless plan, as the erratic power supply would not allow the battery to recharge completely, and that would force Mahavir to excuse them from training the next morning.
"He had no option but to let us go, but not without giving us strict instructions to ensure that the inverter was charged whenever the power supply resumed," she adds.
So did their coach ever find out about their antics?
"To this day, Tauji doesn't know that we used to fiddle with his alarm clock. But even after a decade of having left the sport, I don't have the courage to come clean in front of him," says Rahul.
"We continue to train under Papa," adds Babita, "and he is as strict as he used to be in the initial years of our training. The only real change is that he no longer hits us. But we can never dare to be honest with him about the alarm clock and the inverter's battery."
"There's no telling what new punishment he will come up with to make us pay for those few minutes of extra sleep."
Excerpted from Akhada: The Authorized Autobiography Of Mahavir Singh Phogat by Saurabh Duggal, with the kind permission of the publishers, Hachette India.