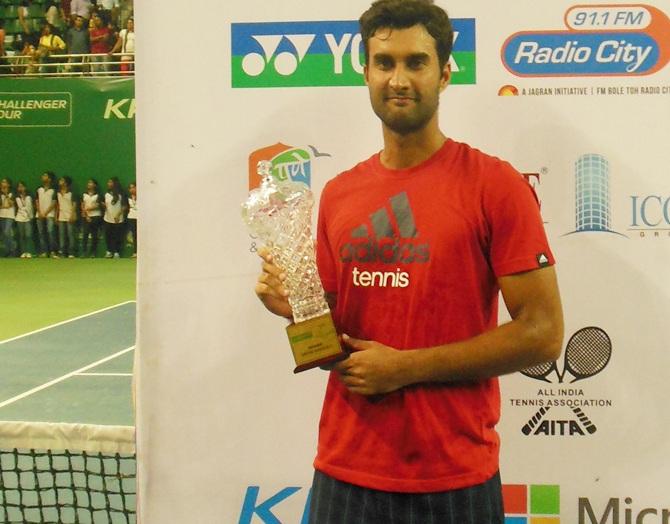 IMAGE: India's Yuki Bhambri will look forward to build and make a transition to ATP level
India's Yuki Bhambri fashioned an impressive if not dominating win to clinch his second title of the season with a 6-2, 7-6(4) defeat of second seed Evgeny Donskoy in the final of the $50,000 KPIT-MSLTA Challenger, in Pune, on Saturday.
It was the best serving day of the tournament for Yuki, ranked 105, as he lost only two points on his serve to quickly wrap up the first set and that set the tone of the match.
Donskoy's game was littered with errors and it only aided Yuki, who collected 80 points for his effort and is not only set to re-enter the top-100 but will stay there for good number of weeks.
Yuki has been very consistent in the last three months as he won title in Shanghai, ended runner-up in Taiwan and reached semifinals in Tashkent and Vancouver.
It was fifth career-title for Yuki at Challenger level and first time he has won two Challengers in a single season. He won one each in 2014, 2013 and 2012.
"I got better with my serves with each passing day. Serve definitely bailed me out and when I serve well, I will always have chance to win, no matter who the opponent is," Yuki said after the match.
Asked if Donskoy's errors played a big role in the outcome of the match, Yuki offered commiserations for the Russian.
"The ball just flies here. It's difficult to control the ball and that's why there were more hit and misses. When you play a semifinal at ATP 250 and then play a Challenger first round, motivation level could be tough. But the guy has played exceedingly well," he said.
Yuki said it has always been a case of getting the shape back for him but now he can look forward to build and make a transition to ATP level.