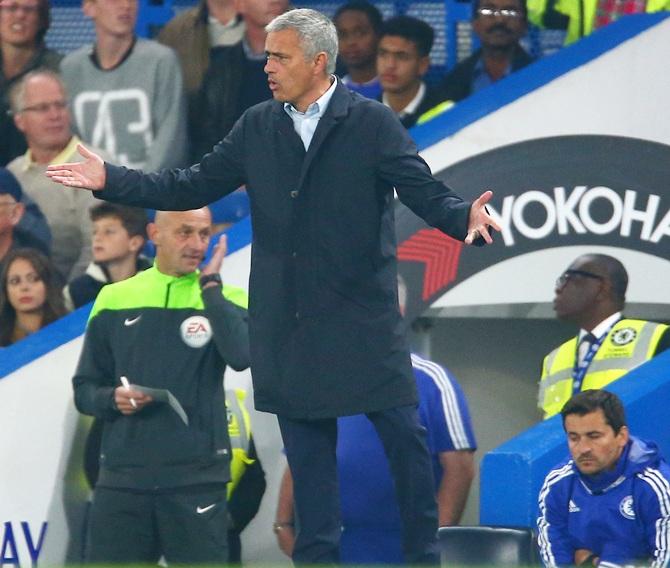 Chelsea manager Jose Mourinho shows his frustration after conceding the third goal. Photograph: Jordan Mansfield/Getty Images
If, as former British Prime Minister Harold Wilson once said, a week is a long time in politics, four and a half months in football clearly represents an eternity.
Southampton send Chelsea crashing
It was only in mid-May that Jose Mourinho's status as the self-styled 'Special One' was rubber-stamped when his Chelsea side finished eight points ahead of their nearest rivals as they romped to the Premier League title.
However, Mourinho had to sit in suffering silence on Saturday as Southampton fans taunted him with cries of 'you're not special any more' and 'getting sacked in the morning' after their side pulled off a surprise 3-1 victory at Stamford Bridge.
Bemused football followers up and down the country are now asking the question, 'what on earth is happening at Chelsea?'
It is early October and already the Londoners have lost six matches in all competitions this season and Mourinho acknowledges his players are going through a crisis of confidence.
"My team, in this moment, the first negative thing that happens, the team collapses, the team mentally and psychologically is unbelievably down," the former Champions League winner with Porto and Inter Milan told reporters.
"The team tries but they collapse. They are in such a low moment, that they collapse."
Fragile is a word that would certainly seem to sum up the current state of mind of the Chelsea squad.
Mourinho's men gave as good a first-half performance on Saturday as they have produced all season but one goal, Southampton's equaliser by Steven Davis just before halftime, knocked the stuffing out of the home side.
The visitors, with the twinkle-toed Sadio Mane running the Chelsea defence ragged, sensed an upset was on the cards and they went for the jugular.
Disgruntled fans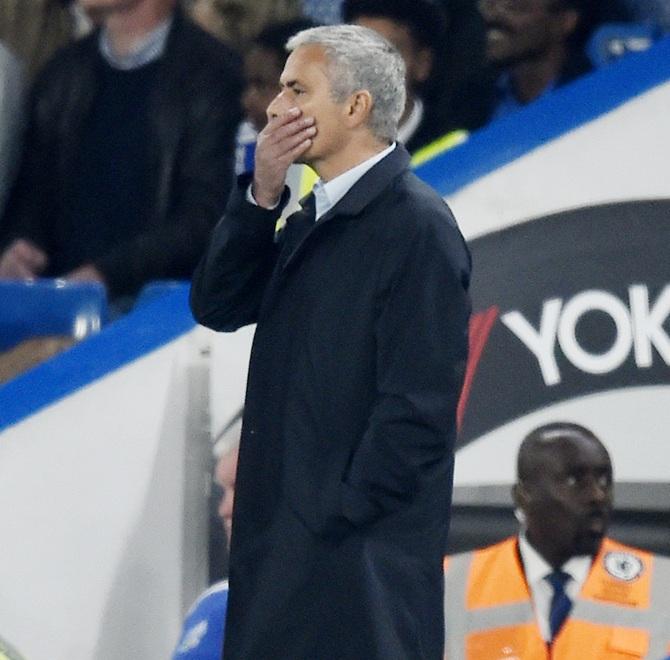 Chelsea manager Jose Mourinho reacts. Photograph: Dylan Martinez/Reuters
Goals from Mane and Graziano Pelle were no more than Southampton deserved and disgruntled home fans left Stamford Bridge in their droves long before the final whistle.
So, what IS going wrong at Chelsea?
In truth, the team punched above their weight in winning the title by eight points last season.
They were indebted to consistently sparkling displays by England's Player of the Season Eden Hazard, to a string of lion-hearted shows by captain John Terry at the back and to Mourinho's clever tactics.
Chelsea started last season in spectacular form but when performances dipped at the turn of the year, it was Mourinho who plotted a series of narrow victories that got them over the line.
Hazard, this term, is a shadow of the player he was a few months ago, the ageing Terry is no longer a regular, midfield strongman Nemanja Matic seems to have lost the faith of his manager.
Matic came on as a halftime substitute against Southampton but lasted only 29 minutes before he was embarrassingly hauled off by Mourinho.
Fellow Serb Branislav Ivanovic cannot put a foot right at full back while playmaker Cesc Fabregas appears to be bereft of ideas in midfield.
Chelsea are leaking goals at an alarming rate at one end of the pitch and, at the other, they look toothless.
Diego Costa, when he is not engaging in running battles with opposition defenders, is short of goals while back-up strikers Radamel Falcao and Loic Remy are also not firing.
Mourinho was, nonetheless, in defiant mood after Saturday's defeat left struggling Chelsea in 15th position, hovering four points above the relegation zone.