'You don't peak every week. One has to keep playing.'
'It's a sport where you have to play at least 25, 30 weeks a year.'
'You have to keep your head down and go with the flow.'
Some of tennis's biggest names have arrived in India to kick off their preparations for the 2018 Australian Open. Only this time, it's not Chennai that will play host to them.
From this year on, for the next five years, Pune is where all the tennis action will be witnessed as the inaugural $560,000 Tata Open Maharashtra begins on January 1, 2018.
World No 6 Marin Cilic is one of the big draws in the tournament alongside US Open finalist Kevin Anderson and Croatian Ivo Karlovic, but many eyes will be on India's top players in the competition: Yuki Bhambri and Ramkumar Ramanathan.
Maharashtra No 1 Arjun Khade is a wild card entrant (singles and doubles) in the tournament.
Arjun first earned notice when he entered the 2012 French Open boys doubles quarters with Peruvian Jorge Brian Panta Herreros.
An alumnus of Symbiosis college and Oklahoma State University, Arjun is a member of the Maharashtra State Lawn Tennis Association's Vision programme and is being supported by the Pune NGO, Lakshya-Bharat Forge.
608 ranked Arjun -- who won the Futures title in Vietnam in November and the men's Futures doubles title with Aryan Goveas in Cairo in December -- tells Rediff.com's Norma Godinho what it will be like playing in front of his home crowd alongside some of the game's biggest stars.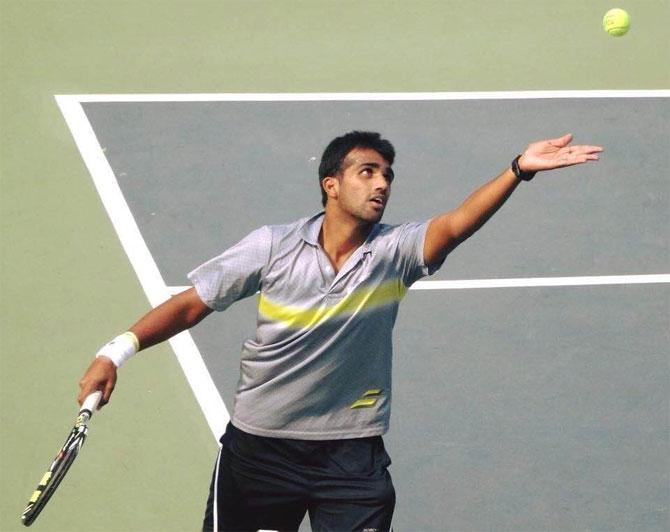 IMAGE: Arjun Kadhe, Maharashtra's No 1 player. Photograph: Kind courtesy Arjun Kadhe/Facebook
Now that you've got a wildcard for an ATP event, how far do you see yourself going in this tournament?
I've just started with the Futures and played one Challenger this year. This is really a treat for me, to play at this level, to play with my all friends who are almost top 100 in the world.
Frankly, for me, the expectations are zero.
I am here to give my best. This is my first time ever playing 250 (an ATP 250 event) in the singles and doubles main draw.
So, I'm going to give it my best and have fun.
How will you feed off the pressure to perform in front of your home crowd?
The last time I played in Pune I did pretty well (the KPIT ATP Challenger where he stretched 313th ranked Croatian Ante Pavic to two tie-breaks but eventually lost in the opening round).
I expect that feeling to resurface. I think I have to use it as a big positive instead of taking it in a negative way.
People here want to see me win. I have to keep that in mind and think of all the positives.
Even if I lose, it's a match, it's win or lose, you know. I am going to try to have some fun and that's going to take some pressure off.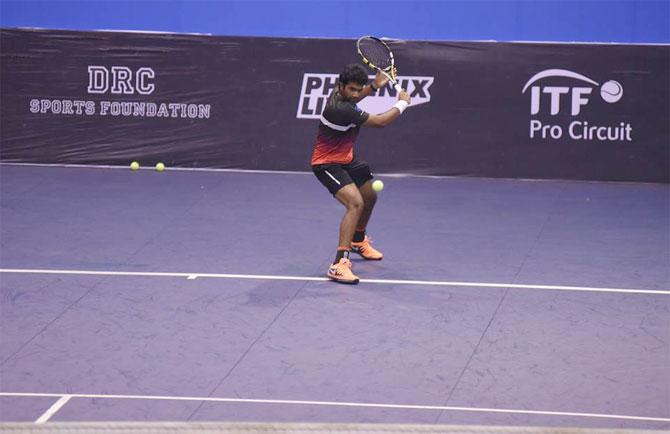 IMAGE: Arjun is an aggressive player who likes attacking at the net. Photograph: Kind courtesy DRC Sports Foundation/Facebook
How difficult is it to chase your tennis dreams monetarily?
It is definitely difficult.
When I was playing the juniors Grand Slam, I had sponsors back then. But in the US, when you go to college you are not allowed to take any sponsorships.
Now I am back, so hopefully I'll get sponsors. I've always got support from the MSLTA whenever I have needed it.
MSLTA has been helpful in sending me to train whenever I've wanted.
But if I have to travel more I need a good sponsor. If you want to travel with your coach it's really expensive.
In India things are improving. Fingers crossed, I'll find someone soon. It's never stopped me from going to train somewhere or stay in a bad place because I don't have enough resources.
It's never happened and it will never happen.
What memories stand out from your earliest tournaments?
Meeting Roger Federer unexpectedly! That was in the French Open locker room in 2012.
The other memory that sticks out is playing all the Grand Slams (juniors). It's a phenomenal experience.
You walk into the locker rooms, you see players like (Novak) Djokovic, (Andy) Murray, (Rafael) Nadal, (John) McEnroe, everyone's sitting there.
You always watch them on TV and now you're sitting next to them!
They are all like so cool, so relaxed.
You won the F3 Futures tournament in Vietnam in November. What sort of approach did you have during this tournament? What are the things that you did right compared to previous tournaments?
The level of confidence was a little different for me because I played a Challenger the week before.
As you play better and higher-ranked players and almost beat them, you have a different level of confidence.
That helped me a lot going into the (Futures tournament.
You don't peak every week. One has to keep playing. It's a sport where you have to play at least 25, 30 weeks a year.
You aren't going to win each and every tournament unless you are Roger Federer.
You have to keep your head down and go with the flow.
How do you prepare before a match? How much do you study your opponent? Or do you just focus on working on yourself, no matter who the opponent is?
I study my opponent. I like to know what the game-style of my opponent is, but I don't like to know too much in detail.
I like to focus on myself, what I do, and what I need to do to give my best on court.
I like to play a card game or listen to some good music before I go on court.
What are your strengths and weaknesses?
My fitness was my biggest challenge. I think I've done a great job in college. I have a long way to go in that. That is one department I am really trying to improve upon.
Staying positive is what I will count among my strengths.
My aggressive game-style -- my serve, my forehand, my volleys...
What kind of changes have you made to your game? This year, you've jumped over 85 places in the rankings.
I have not changed much. Fitness has changed a little bit.
You were a member of the Davis Cup team in 2013. Did you pick up some lessons from Leander Paes, Mahesh Bhupathi, Rohan Bopanna?
Leander Paes and Mahesh Bhupathi are legends of the game. They have different styles of working. I really didn't get to spend too much time with them, but whatever little I could absorb I tried to absorb.
Tennis has been a very defensive sport over the last 10, 12 years. Are you a baseline player too?
I like to mix and match. I am a more aggressive player. I don't like to stay back and grind a lot.
I like the power shots and try to move in as much as I can.
Who is your role model, on and off court?
The biggest role model for me is Usain Bolt.
Everyone asks him about the pressure he faces going into big competitions, and he is like 'You can't change that so you just try to keep it loose, try to focus on the basics.'
I try to carry the same mojo.

IMAGE: Arjun at a practice session in Pune, December 29, 2017. Photograph: Tata Open Maharashtra
What does Arjun Khade do to keep himself fit?
Injuries come and go. Small niggles, body pains, they are always there.
There is never a day when nothing is paining, that's when you know you are training right.
Nowadays working smart is more important than working hard.
One needs to work smart, take enough rest, because it is important to be fresh when you enter the court.
What kind of diet do you follow?
I used to eat a lot of seafood. Whatever I saw, I ate.
For the last five years I am trying to eat healthy. I eat a lot of protein, get in a lot of fruits during the day.
I've taught myself what is good to eat and what's good for my body.
Tennis involves a lot of travelling. Do you enjoy the journeys?
The good thing about tennis is you get to see, you get to meet new people.
It's exciting for me to make new friends and the more times you go, the more friends you make and it doesn't seem like you are travelling alone.