'I did everything I had to do. I wasn't afraid for it to become a physical match'
'I got there for a reason. I belong in that spot. I will do everything I can to get the title'
'You need ...to believe ... that you can be in the final'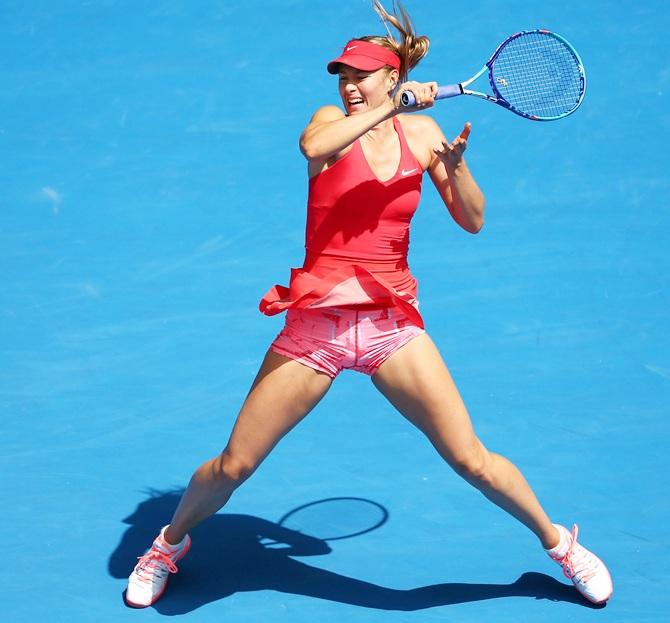 Maria Sharapova of Russia plays a forehand in her semifinal match against Ekaterina Makarova of Russia. Photograph: Clive Brunskill/Getty Images
The confidence of overcoming two match points in a second round clash against Alexandra Panova has ultimately paid off for Maria Sharapova as she advanced to her fourth Australian Open final with a 6-3, 6-2 victory over Ekaterina Makarova on Thursday.
In that second round match more than a week ago, the 28-year-old Russian realised she had no choice but to stand and deliver against Panova, banging off two forehand winners that kissed the tramlines to prolong her tournament.
Since that moment, the Russian has looked virtually unbeatable, none more evident than on Thursday.
"I thought I played solid," said Sharapova. "I did everything I had to do. I wasn't afraid for it to become a physical match.
"Those key moments are really important (and) yeah, definitely happy I was able to win really solid today."
Makarova, who also reached the last four at the 2014 US Open, had not dropped a set all tournament and her easy win over third seed Simona Halep in the quarter-finals gave her plenty of confidence going into the contest despite her 5-0 losing record against Sharapova.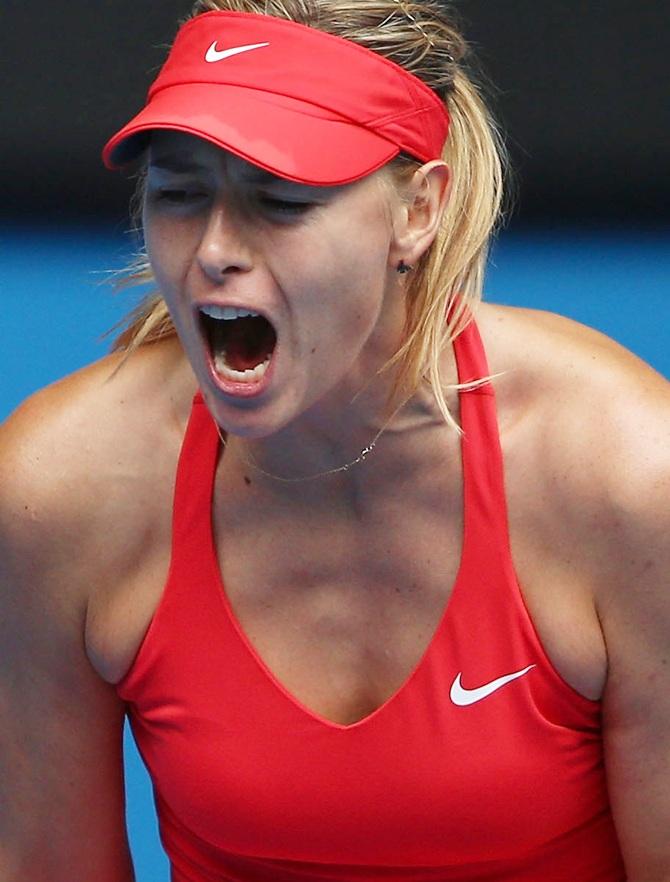 Maria Sharapova of Russia reacts to a point. Photograph: Hannah Peters/Getty Images
The five-time Grand Slam winner, however, used all of her experience to negate Makarova's tricky serve, slow down the tempo on her own serve in swirling wind conditions and barely move beyond the service mark on the baseline.
Makarova's forehand also failed her, undoubtedly due to the pressure Sharapova was exerting on her, but even on the rare occasions when she had the court open and the world number two at her mercy.
"I think it's more emotions, more psychology working at this level," said Makarova, suggesting big-match nerves had got to her. "It's definitely not even more tennis, more the head.
"You need ...to believe ... that you can be in the final."
Sharapova, the 2008 champion, whose last Melbourne Park final came three years ago, will now meet top seed Serena Williams for the title after the American beat teenager Madison Keys.
The last time the pair clashed at Melbourne Park, the American prevailed in an one-sided final, though Sharapova held none of the confidence issues Makarova did.
"I think my confidence should be pretty high going into a final of a Grand Slam no matter who I'm facing," Sharapova said.
"I got there for a reason. I belong in that spot. I will do everything I can to get the title."