Greg Norman says he would not have chosen Tiger Woods as a wildcard selection for next month's Presidents Cup in Australia because of the former World No. 1's poor form since the end of 2009.
Instead, Norman felt PGA Championship winner Keegan Bradley was a worthier captain's pick for the 12-man United States team to take on the Internationals in the November 17-20 competition.
"I wouldn't have (picked Woods)," Norman told the Fort Myers News-Press newspaper in Florida on Sunday. "I think Keegan Bradley was much more deserving.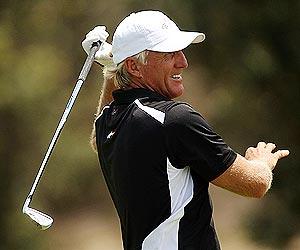 "I can understand the name of a Tiger Woods and his history of what he's done on the golf course. But I pick the guys who I think are ready to get in there and play and have performed to the highest levels leading up to it."
Norman will lead the Internationals at Royal Melbourne Golf Club where his opposite number, Fred Couples, will have Woods and Bill Haas on his team as his two captain's picks.
Couples had inked Woods in as one of his selections a month early, despite the 14-times major champion's struggles on and off the course in recent years.
Woods has played in every Presidents Cup since 1998 but has not triumphed anywhere since the 2009 Australian Masters while battling leg injuries and trying to rebuild his golf swing and private life following the breakup of his marriage.
"I just don't think he's swinging the golf club the way he used to when he won all those major championships," Norman said of Woods, whose world ranking has slipped to 52nd.
"He's a different player out there nowadays. He looks more confined. I know what it takes to have freedom in a golf swing ... and I just don't think he's technically in the right position to do what he used to do."
Norman expressed sympathy over the omission of 25-year-old Bradley from the US team.
"If I was in his shoes, I would feel like I got gut-checked a little bit," the Australian said. "He's a young guy. He likes the Presidents Cup. He loves the idea of playing for his country and he's not, so I feel for him."