Bob Bradley was dumped as the United States national men's head coach on Thursday.
Bradley, 53, had been in the job for five years but had been facing mounting pressure to keep his job after the Americans underperformed at last month's CONCACAF Gold Cup final, despite making the final, which they lost to Mexico.
"We want to thank Bob Bradley for his service and dedication to US Soccer during the past five years," US Soccer President Sunil Gulati said in a statement.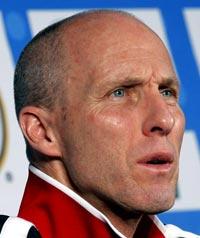 "During his time as the head coach of our men's national team he led the team to a number of accomplishments, but we felt now was the right time for us to make a change."
Bradley, whose son Michael is a member of the national team, took over as American head coach in 2007 after the US disappointed at the 2006 World Cup and enjoyed instant success, winning the 2007 CONCACAF Gold Cup.
He safely guided the team through the qualifiers for the 2010 World Cup but the US lost in the second round to Ghana.
"It is always hard to make these decisions, especially when it involves someone we respect as much as Bob," Gulati said. "We wish him the best in his future endeavours."
There was no immediate announcement on who would replace Bradley.