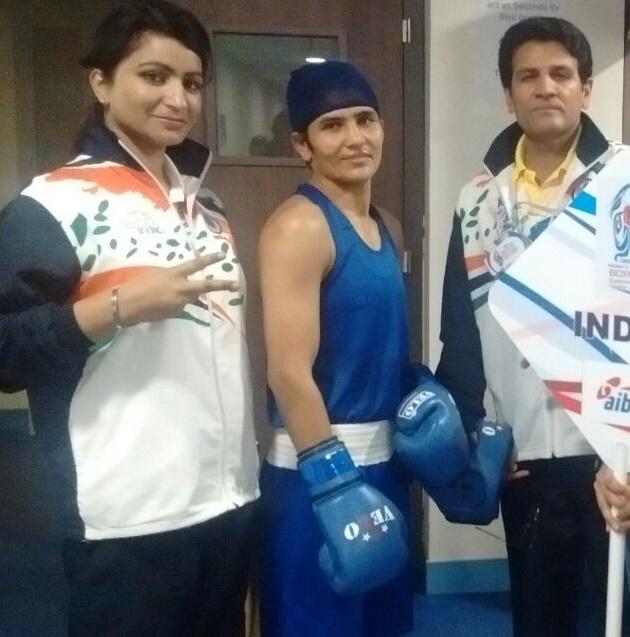 IMAGE: Coach Amanpreet Kaur, left, with Sonia Lather, centre, after Friday's final in Astana, Kazakhstan.
Indian pugilist Sonia Lather was assured of a medal in the 57kgs at the AIBA World Women's Boxing Championships, only the colour of it had to be decided on Friday.
The 24-year-old looked calm before her final bout and showed aggression only in the boxing ring, but her efforts were not enough to win her a gold medal.
In a thrilling final, in Astana, Kazakhstan, she was beaten 1-2 by Italy's Mesiano Alessia.
The boxer from Haryana fought well to take a lead in the first two rounds, but her opponent staged an aggressive comeback in the third round.
The deciding round was keenly fought and it was so tough that no one but the judges could have known the result.
When the referee raised Alessia's hand, declaring the Italian the winner, gloom descended in the Indian boxer's corner.
Sonia used a good combination of punches in the first two rounds and her jabs were precise. Her left jab always followed a right. It seemed as if she was there to win the championship but her the Italian launched a strong fightback in the third.
Sonia threw more punches in the last 30 seconds of the bout but it was too little too late.
Her coach, Anoop Kumar, had predicted a gold medal while Amanpreet Kaur, another coach on her ringside, could not digest the result.
"Sonia was amazing in the ring. The decision that she lost is yet to sink in," Amanpreet said.
The Indian's path to final was tough. The former Asian Championships silver-medallist fought local favourite Khojabekova Aizhan in the semi-finals and the mighty Polish Rygielska Aneta in the quarters.
This is the third edition in succession that India failed to win a gold medal.
India's last gold at the prestigious tournament came in 2010 when M C Mary Kom finished on top in the 48kg category to clinch her fifth World title.
Mary Kom (51kg) could only go till as far as the second round this year.
None of the Indians boxers could win a berth for the Rio Games in the three Olympic categories of 51kg, 60kg, 75kg from this tournament.
In the 2014 edition in South Korea, India won two silver medals through Sarjubala Devi (48kg) and Saweety (81kg), both of whom lost in the quarter-finals in this tournament.