Former India captain Dhanraj Pillay is set to scorch the hockey turf with his lightning speed and magical moves during World Series Hockey (WSH).
The mercurial striker has been signed to play in the league that is scheduled to begin on December 17.
Dhanraj, who was conferred the Rajiv Gandhi Khel Ratna in 1999, the country's highest sporting honour, had mesmerized the hockey world with his dazzling ball control and stickwork in his heyday. He has the distinction of donning India colours at four Olympics (1992, 1996, 2000 and 2004) and four World Cups (1990, 1994, 1998 and 2002).
"It is a fantastic feeling to be back in action with the global hockey superstars," said Dhanraj. "I have always maintained that the hockey players need to be better looked after and I am proud to be associated with WSH. The league will provide the young Indian players with an ideal platform to showcase their talent on a global stage. I have been undergoing intensive training to compete with the best in the world," he added.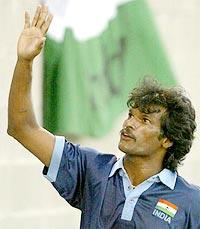 One of the most popular stars of Indian hockey, Dhanraj stamped his mark on almost all major tournaments around the world with his precise goal-scoring ability. Besides representing India at various international tournaments, he also represented a number of overseas clubs, including Indian Gymkhana, London; HC Lyon, France, HTC Stuttgart Kickers, Germany and BSN HC & Telekom Malaysia HC, Malaysia.
The WSH will be held from December 17, 2011 to January 22, 2012 and will involve 176 leading players -- Indian and international -- who will showcase their talent in 61 matches. It will be a multi-city franchise-based league with players being allocated to the teams based on the internationally accepted and practised 'draft' system.
The inaugural edition of the league will comprise eight teams out of Mumbai, Delhi, Chennai, Hyderabad, Bangalore, Chandigarh, Pune, Bhopal, Punjab, Ranchi and Rourkela.
The hockey players, for the first time, will have a global platform to exhibit their skills for which they will be financially rewarded. The legacy created by the planned upgrading of infrastructure across the country will benefit hockey for generations to come.
Some of the Indian  stars who will be seen in action in WSH include  Rajpal Singh, Sandeep Singh, Adrian D'Souza, Sardara Singh, Prabhjot Singh, Arjun Halappa, Diwakar Ram, Bharat Chetri, Dhananjay Mahadik, Shivendra Singh, Mandeep Antil, S.V. Sunil, Roshan Minz, William Xalxo, Prabodh Tirkey and Yuvraj Walmiki.