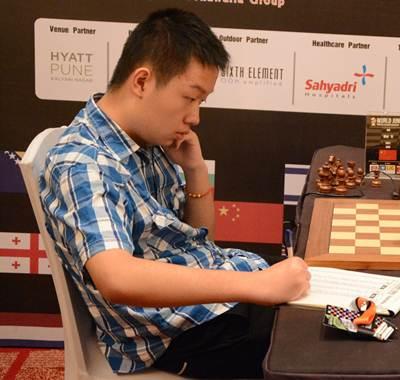 China's Lu Shanglei and Wei Yi emphatically exhibited their rising chess prowess with convincing victories over Russians Vladimir Fedoseev, the top seed, and Mikhail Antipov, in the 10th round of the World Junior Chess Championships at Hotel Hyatt, in Pune, on Thursday.
The victories ensured that the Chinese maintained joint-leader status with eight points each.
In the girls' section, top seed Aleksandra Goryachkina enhanced her sole lead with the shortest victory in this edition of the World juniors, defeating Iran's Sarasadat Khademalsharieh of Iran in just 10 moves. She has 8.5 points.
Padmini Rout, India's strong contender for the title, dropped back farther with a draw against Meri Arabidze of Georgia. She has seven points.
S L Narayanan, after gaining a GM norm on Wednesday, ended on the losing side against Ankit Rajpara in an English game which lasted 44 moves.
Sarasadat appeared to lose way in the opening stages of a Queen's Gambit against Aleksandra on the ninth move itself. A move later, landing in an inferior position, the Iranian preferred to resign rather than continue in agony and almost rushed out of the tournament hall in tears.
Three more rounds are remaining in this 13-round event, sponsored by LIC and Government of Maharashtra and Amanora. ONGC, Jain Irrigation and Everstone are the Associate sponsors.
Important Results of Open section (Indians unless specified): Lu Shanglei (Chn)-8 bt Vladimir Fedoseev (Rus)-7; Mikhail Antipov (Rus)-6.5 lost to Wei Yi (Chn)-8; Aravindh Chithambaram-7 drew Jorge Cori (Per)-7; Karen Grigoriya (Arm)-7 drew Bai Jinshi(Chn)-7; Diptayan Ghosh-7 drew Kamil Dragun (Pol)-7; Duda Jan-Krzysztof (Pol)-7 bt Paulo Bersamina (Phi)-6; Indjic Aleksander (Srb)-7 bt Sayantan Das-6 ; S L Narayanan-6 lost to Ankit Rajpara-7 ; Christopher Repka (Svk)-6.5 drew M Karthikeyan-6.5;: Prasanna Rao-6 lost to Irakali Beradze (Geo)-7 ; Vidit Santosh Gujrathi-6.5 bt Linus Johansson (Swe)-5.5.
Girls: Sarasadat Khademalsharieh (Iri)- 7 lost to Aleksandra Goryachikina (Rus)-8.5; Zhai Mo (Chn)-7 drew Daria Pustovoitova (Rus)-7 ; Ann Chumpitaz (Per)-7.5 bt Anna Iwanow (Pol)- 6.5; Meri Arabidze (Geo)-6.5 drew Padmini Rout-7; P V Nandhidhaa-6.5 drew Irina Petrukhina (Rus)-6.5 ; Ioana Gelip (Rou)-6 lost to Srija Seshadri-7; Nguyen Thi Mai Hung (Vie)-6 drew Janelle Mae Frayna (Phi)-6 ; Sabina Ibrahimova (Aze)- Varshini V ; Rucha Pujari Ivana Maria Furtado ; Maria Gevorgyan (Arm) Michelle Catherina ; Jodilyn Jan Fronda Madhurima Shekhar ;Pratyusha Bodda -5 lost to Sarvinoz Kurbonboeva (Uzb)-6 ; Supreeta Potluri -6 bt Tea Gucci (Ita).
The Moves
Khademalsharieh,Sarasadat (2366) - Goryachkina,Aleksandra (2430)
WJCC U20 Girls Pune (10), 16.10.2014
1.d4 Nf6 2.Nf3 d5 3.c4 e6 4.Bg5 c6 5.e3 Nbd7 6.Bd3 Qa5+ 7.Nbd2 dxc4 8.Bxc4 Ne4 9.Bh4 g5 10.Bg3 g4
0–1
Arabidze,Meri (2409) - Padmini,Rout (2331) [A40]
WJCC U-20 Girls Pune (10), 16.10.2014
1.d4 e6 2.c4 f5 3.a3 Nf6 4.Nc3 d5 5.Bf4 Bd6 6.Bxd6 Qxd6 7.e3 0–0 8.Rc1 c6 9.Bd3 Nbd7 10.cxd5 cxd5 11.Nf3 a6 12.0–0 b6 13.Ne2 Bb7 14.Nf4 Rfc8 15.Qe2 b5 16.Ng5 Nf8 17.h4 g6 18.b4 e5 19.dxe5 Qxe5 20.Nf3 Qe7 21.Nd4 Ne4 22.g3 Nd7 23.Kg2 Ne5 24.h5 g5 25.Nfe6 Rxc1 26.Rxc1 Rc8 27.Nc5 Nxc5 28.bxc5 Rxc5 29.Rxc5 Qxc5 30.Bxf5 Bc8 31.Bxc8 Qxc8 32.f4 Nc4 33.Qf3 gxf4 34.exf4 Qd7 35.h6 Kf8 36.f5 Qd6 37.Ne6+ Ke7 38.Kh3 Qe5 39.Qg4 Nd6 40.Qg7+ Qxg7 41.hxg7 Kf7 42.g4 Ne8 43.Kg3 a5 44.Kf4 b4 45.axb4 axb4 46.Nd4 h6 47.g8Q+ Kxg8 48.Ke5 Kf7 49.Kxd5 Nf6+ 50.Kc4 Nxg4 51.Kxb4 h5 52.Kc3 h4 53.Nf3 h3 54.Ng5+ Kf6 55.Nxh3 Kxf5.
Image: Wei Yi