Poland's Pawel Fajdek wins fourth consecutive hammer gold at World Championships.
Dina Asher-Smith seized her golden opportunity to win the World Championships 200 metres on Wednesday and become the first British woman to claim a global sprint title.
With many of the top medal contenders pulling out or skipping the event, Asher-Smith proved the class act in the field, powering home in a national record 21.88 seconds to add gold to the silver she won in the 100m.
"You're only the favourite if you go out and perform how people expect you to and I was really focussed on putting together a good race," said Asher-Smith. "I dreamt of this but now it's real.
"I know I was tired and woke up today knowing this was the last individual chance and this was the moment I did all my work for," she added.
"This is what we knew we could achieve if the season went well and the tiredness just disappeared when I needed it to. It's a different thing with everyone saying you're the favourite but it's a different thing going and doing it."
The once mighty United States, who had been a non-factor in the women's sprints in Doha, also benefited from the scratches as Brittany Brown grabbed the silver in 22.22.
Switzerland's Mujinga Kambundji completed the podium by grabbing bronze in 22.51.
The fight for medals was blown wide open when some of sprinting's biggest names withdrew during the earlier rounds.
The race was missing the reigning World and Olympic champions in Dutchwoman Dafne Schippers and Jamaica's Elaine Thompson who withdrew due to injuries.
Shaunae Miller-Uibo of Bahamas, owner of the fastest time this season, elected to race the 400m only due to scheduling issues.
The World 100m champion Shelly-Ann Fraser-Pryce and bronze medallist Marie-Josee Ta Lou scratched because of soreness from earlier races while Nigeria's Blessing Okagbare, who had run the third fastest time this season, was disqualified in her heat.
None of that mattered to Asher-Smith who was focussed on making history, the 23-year-old blasting out of the blocks and in command coming off the bend before cruising to victory.
"I made sure that I remained focus," said Asher-Smith. "It's very easy to come here, to be in great shape but to lose focus over something very silly like getting caught up in the moment.
"Whenever I finish a championship, I always want to be able to look back and say I absolutely gave everything that I could have."
The victory doubled Britain's medal tally at the championships to two, both coming from Asher-Smith.
But the last few days of the competition could bring more gold for Britain with Katarina Johnson-Thompson taking a 96-point lead into the second day of the heptathlon.
Asher-Smith could also add to her haul in the 4x100m relay.
"I've got to relax and rest," smiled Asher-Smith. "Maybe I'll have a little cake. There are nice cakes in our hotel. Maybe a piece and a chocolate Bounty too."
Fajdek wins fourth consecutive hammer gold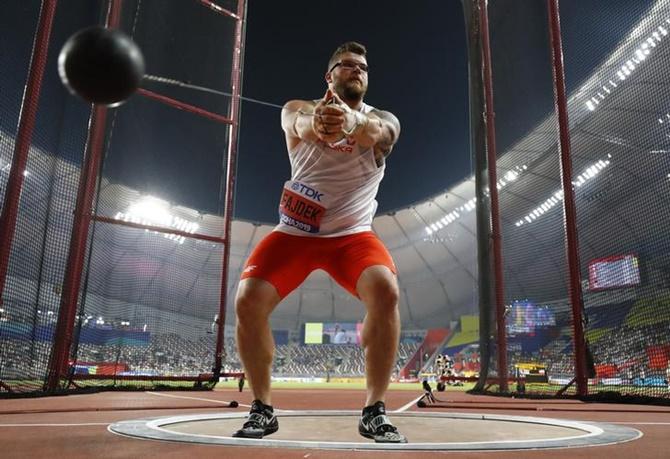 Poland's Pawel Fajdek was again in a class of his own as he claimed a fourth consecutive hammer World Championship on Wednesday by unleashing the only effort over 80 metres.
On his fourth attempt, Fajdek put down his golden marker with a throw of 80.50m that no one could come close to matching.
The fight for the remaining medals was much tighter as Frenchman Quentin Bigot snatched the silver with a toss of 78.19, which was one centimetre better than Hungary's bronze medallist Bence Halasz.
Fajdek's countryman Wojciech Nowicki, who holds the season's best score of 81.74m, did not come close to matching that performance and finished fourth after taking bronze at the previous two worlds.
Despite dominating the world championships, Fajdek has not found the same success on the Olympic stage where he has failed to reach the podium.
After his latest victory, the Pole was not thinking about next year's Tokyo Games but instead was eyeing a fifth world crown in Eugene, Oregon in 2021.
"Taking a fourth world title, it is very emotional for me and I feel very proud tonight," said Fajdek.
Now, next hard work in the following two years until Eugene."
Holloway glides to gold as McLeod tumbles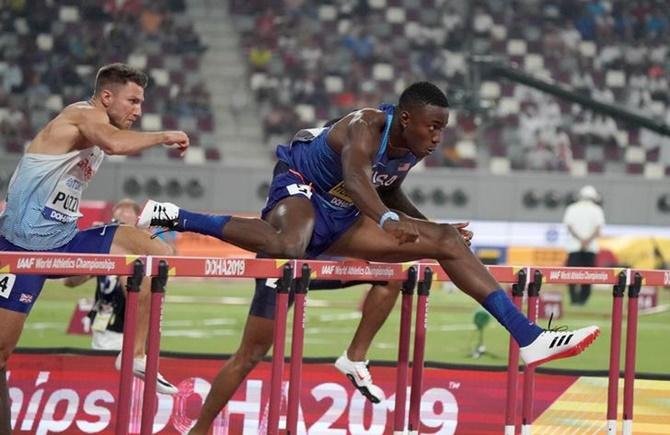 Grant Holloway of the United States blazed to his first 110 meters hurdles World title on Wednesday in a dramatic race in which defending champion Omar McLeod fell.
The 21-year-old Holloway, who came into the championships with the season's fastest run of 12.98 seconds, smoothly glided through 10 hurdles to cross the line in 13.10, five hundredths of a second ahead of Sergey Shubenkov.
"The race was a blessing," Holloway said. "My goal was just to come out here and execute each and every round. I felt like I did that."
Favorite to defend his title, Jamaican McLeod came out of the starting blocks fast but his race quickly turned sour as he knocked down hurdles and tumbled to the track before reaching the finish line.
McLeod's problems seemed to upset Diamond League champion Orlando Ortega in the next lane and he finished fifth in 13.30 seconds.
McLeod said he had felt a hamstring strain in the warm-up and thought it would go away.
"I was ready to go, I showed up ready," McLeod said. "I put myself in the very best situation to defend my title."
Capitalizing on McLeod's fall, Shubenkov, the 2015 world champion, took his second consecutive world silver with a technically sound run of 13.15 seconds.
Holloway and Shubenkov said they had not no idea that chaos was unfolding in neighboring lanes.
"In the replay I saw that one fell down... another was celebrating," said Shubenkov. "I thought to myself 'I missed everything'."
The Russian secured a third medal for the authorized neutral athletes after golds in the women's pole vault and high jump this week.
Like all other Russians competing in Doha, Shubenkov cannot wear his national colors and brandish the Russian flag during his celebratory lap because the country's athletics federation remains suspended following a doping scandal.
The bronze medal went to European champion Pascal Martinot-Lagarde, who finished 0.03 seconds behind Shubenkov to give France its second medal of the world championships.
"I was the one who stayed on my feet," Martinot-Lagarde said. "It's the medal of self-control. It's the medal of the guy who stayed focused."
Warner takes lead after Day One of decathlon
Canada's Damian Warner snatched the lead after the opening day of decathlon competition at the World Athletics Championships on Wednesday but will have restless night with World record holder and defending champion Kevin Mayer lurking just 30 points back.
Sandwiched between the two gold medal favourites is another Canadian, Pierce LePage, but it is the Frenchman, who has a history of turning in big scores on the second day, that Warner will be wary of.
After a long, gruelling first day in the air-conditioned comfort of the Khalifa Stadium, there was not much separating the top three.
Olympic bronze medallist Warner led the table with 4,513 points, followed by LePage 27 points back on 4,486 and Mayer, the Olympic silver medallist, a further three points adrift with 4,483.
"Some decent performances but also some performances that didn't go so well but I am still in first place after Day One and I just have to come out and attack Day Two," said Warner.
"He (Mayer) is really a second day person, he has a lot of strong events he really doesn't have a weakness right now. Obviously we know he is going to come out strong tomorrow and we just have to be right there to put up a fight."
Warner, winner of Pan Am Games gold in August, got the competition off to a flying start by clocking the top time in the 100 of 10.35 seconds and was second best in the long jump.
But the Canadian could do no better than eighth in shot put while Mayer had a personal best of 16.82 to take over top spot after three events.
Warner jumped 2.02m in the high jump to edge out the Frenchman who had 1.99, enabling the Canadian to trim Mayer's advantage to 11 points.
It came down to the 400m to decide who would lead at the end of the day.
Running in the final of three heats, LePage left the field in his wake as he clocked the top time and personal best of 47.35 seconds that shot him into second overall.
Warner came across the line in fifth in 48.12 but that was enough to vault him into the lead ahead of Mayer, who struggled home in 12th in 48.99.
Johnson-Thompson leads heptathlon after four events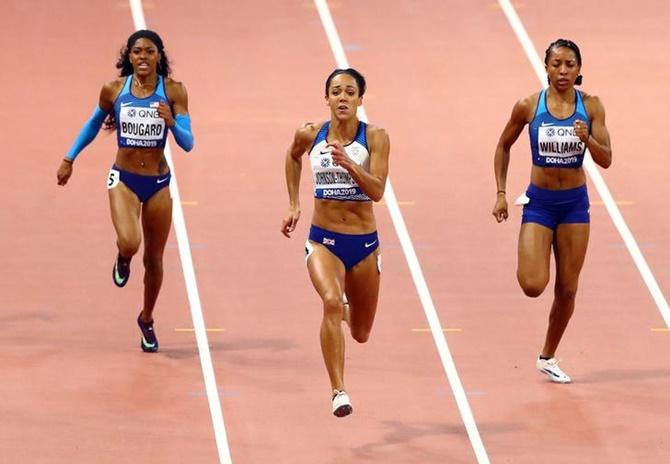 Britain's Katarina Johnson-Thompson produced two personal bests as she made a superb start to the heptathlon at the World Championships on Wednesday, opening a 96-point lead over defending champion Nafissatou Thiam after four events.
The 26-year-old Johnson-Thompson took an early lead after running a lifetime best of 13.09 seconds in the 100m hurdles, before matching Thiam with a clearance of 1.95m in the high jump.
The Belgian briefly reclaimed top spot with a 15.22-metre throw in the shot put, but Johnson-Thompson kept in touch with a personal best of 13.86 metres.
The Briton then retook the lead with a season's best of 23.08 seconds in the 200 metres to move onto 4,138 points and put herself in a position to win her country's second gold of the championships.
Britain clinched its first gold when Dina Asher-Smith dominated the 200 metres final on Wednesday at the Khalifa International Stadium.
"Gold - why not?" Johnson-Thompson said. "I am in shape and in the position to do it but you never know what can happen on day two."
Thiam trails Johnson-Thompson with 4042 points but was nonetheless pleased with her performance with three remaining events on Thursday -- the long jump, the javelin and the 800m.
"I'm happy with what I did today and I hope I can be good like that tomorrow and see what happens," Thiam said.
Kendell Williams of the United States sits in third with 3,855 points.