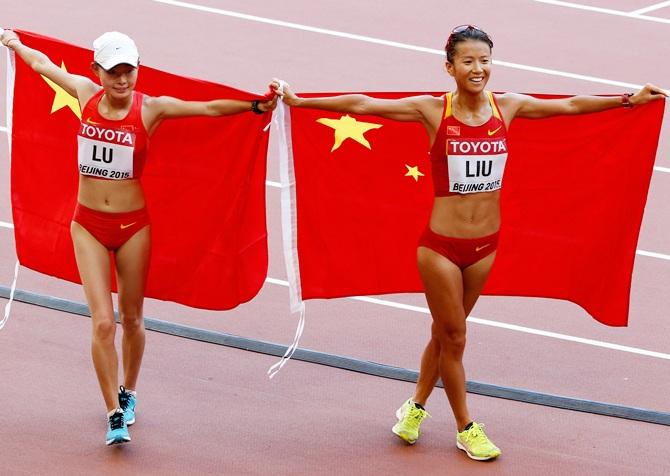 China's silver medalist Xiuzhi Lu, left, and gold medalist Hong Liu celebrate after the women's 20km Race Walk final. Photograph: Christian Petersen/Getty Images for IAAF
China picked up a first gold medal at their home world athletics championships when Liu Hong led Lu Xiuzhi across the line after the duo blew away the field in the women's 20 kilometre walk on Friday.
Champ Usain Bolt knocked down by photographer on Segway scooter!
Bolt completes 100-200m double at Worlds
Both were given a rapturous applause as Liu crossed the line in the iconic Birds Nest Stadium in a time of one hour 27 minutes and 45 seconds, just ahead of compatriot Lu, with the duo having gone step for step together throughout the race.
The pair entered the stadium in conversation and embraced after the line before going on a lap of honour together.
It was a first world championship gold for world record-holder Liu having taken bronze in 2009 and 2013 and silver in 2011.
The pair led upon exiting the stadium and although Anezka Drahotova kept pace for the first 5km the Czech was inevitably dropped as she struggled to keep up on another scorching morning in the Chinese capital.
The Chinese duo stretched their lead to 26 seconds at the halfway stage as they begun lapping back markers on the 1km course loop.
Ukraine's Lyudmyla Olyanovska had cut that to 21 seconds after 15km but the deficit was too big and she settled for bronze in 1:28:13.
Italian Eleonora Giorgi had been pushing for the bronze medal before being disqualified over the closing 5km.
Portuguese Ana Cabecinha was fourth and Antonella Palmisano of Italy fifth.