Bernard Lagat has grown into the job of role model for the next generation of American distance runners. He has also grown a beard to remind them how old he is.
At 36, Kenyan-born Lagat has been a force in distance running for a decade, winning gold in the 1,500 and 5,000 metres at the 2007 world championships in Osaka as well as Olympic 1,500 silver and bronze in Athens and Sydney.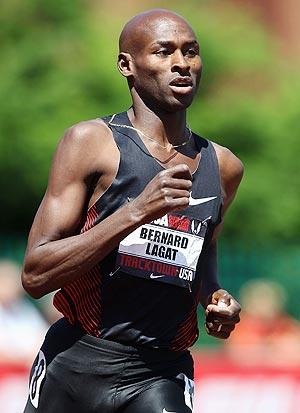 While he goes into the 5,000 at the world championships in Daegu, South Korea knowing Britain's Mo Farah is the heavy favourite, Lagat said there was plenty of life left in his legs.
"I'm tired of people asking me which high school I go to," joked Lagat on Friday when asked about his new whiskered look.
"This proves that Bernard Lagat has been there a long time. I'm an old man but I'm still running fast."
Lagat, who became a US citizen in 2004, said American distance running had never been stronger.
"I'm really happy to be part of it. When I run with the young guys they say, 'Hey I've been watching you since I was still in high school and now I can run with you'.
"Those are the things that make me happy. When I'm training with the athletes in America, it makes them run faster and makes them have goals, like to be the best in the world, to be like me."
Farah is in the form of his life going into the August 27-September 4 world championships and while Lagat is well aware of the Briton's strength he has enough experience to know that anything can happen in a final.
"Everybody who makes it through to the final is a legitimate threat so I have to pay attention to everybody," he said.
"Nobody wants to be the pacemaker for others, and at the same time no one wants to go all out. If you go all out everyone will just sit on you and the chances of you losing are very high, so no one wants to take that risk.
"I have to be ready for any situation. (The pace) could be fast and I have to be ready for that."
Lagat finished second to Ethiopia's Kenenisa Bekele in Berlin two years ago and was third in the 1,500. He hopes concentrating on the 5,000 in Daegu will make a difference this time around.
"Now I'll be entering the 5,000 fresh, before I'd already raced in the 1,500," he said. "I'm going to use the semi-finals as a warm up for the final. And those two days in between are going to be really critical, that's where I'm going to work on my strengths and weaknesses."
The 5,000 heats take place on September 1 with the final on the closing day.