Javelin thrower Neeraj Chopra, who won a gold medal at the Under-20 World Athletics Championships, tells Rediff.com's Aruneel Sadadekar he's confident of winning a medal at the Tokyo Olympics.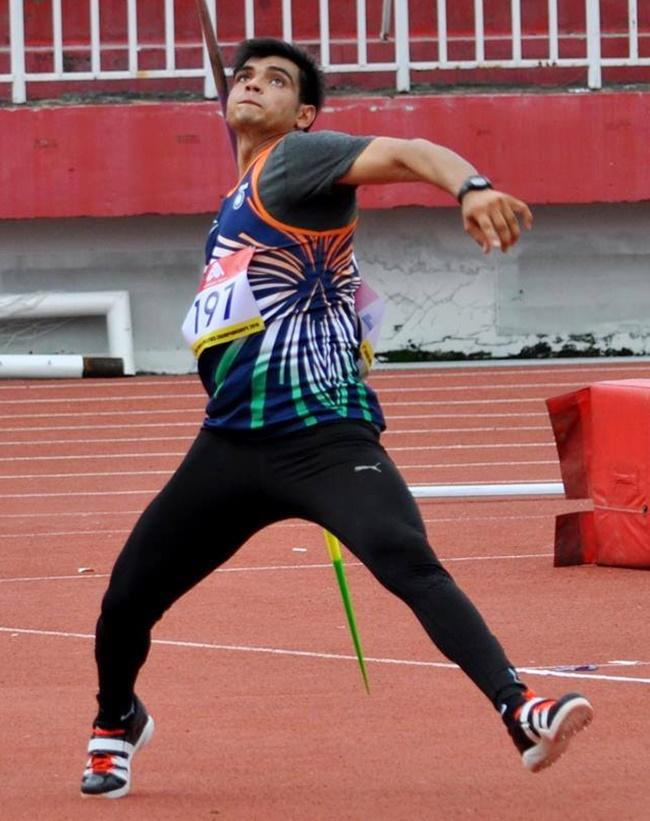 IMAGE: Neeraj Chopra in action.
Javelin thrower Neeraj Chopra recently scripted history when he won a gold medal at the Under-20 World Athletics Championships in Bydgoszcz, Poland, on July 23.
He became the first Indian athlete to be crowned World champion at any level.
His effort of 86.48 metres earned the country its first World record in track and field and the first-ever gold in a World Athletics Championships.
A wild card entry for the Rio Olympics did not materialize, but Chopra can now be counted a medal hope at the 2020 Games in Tokyo.
In Mumbai for the JSW Sports event, the 18 year old spoke with Rediff.com's Aruneel Sadadekar.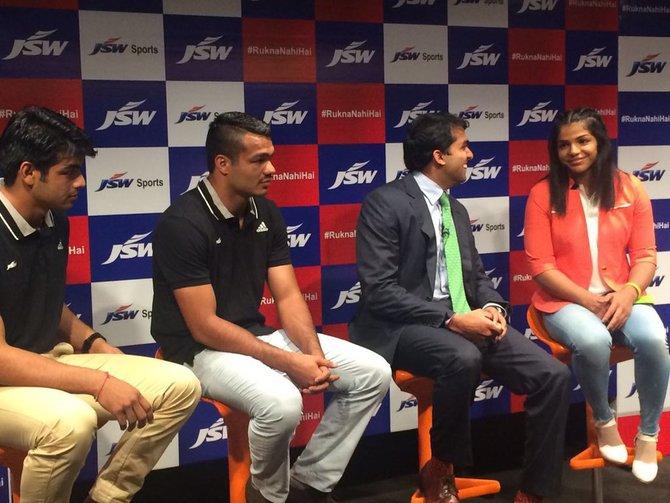 IMAGE: Neeraj, left, with boxer Vikas Krishan and Sakshi Malik, extreme right, at the JSW event in Mumbai, September 6, 2016. Photograph: Twitter
You shared the dais with Sakshi Malik and Vikas Krishan...>/strong>
Life has completely changed for me now after the World record. Both these athletes are my seniors. Vikas has helped me a lot during training at the Patiala Sports Academy.
Sakshi has just won a medal at the Olympics, so it feels very special to with them.
I assure you that if I remain fit, I will win a medal in the next Olympics.
Tell us about your World record in Poland.
I knew it was a special score immediately after the spear left my hand.
When the distance read more than 86 metres I knew it was enough to win a medal at the Olympics as well.
In fact, with that score I would have won a bronze medal at the Rio Olympics.
Attempts were made to earn you a wild card entry for Rio...
Yes, with that score, suddenly everybody started talking about me. Unfortunately, we were a week late. The final list for the Rio Games was finalised on July 14 and I set the World record on July 23.
I will be lying if I say that I wasn't disappointed, because winning an Olympics medal is my ultimate dream.
But I am young (18) and will get my chance four years later.
In the next four years the bar will be raised higher and you will have to keep up with the international standard at the senior level.
I am aware of that. I am only 18, so the scope for my development is more as compared to any other senior athlete from other countries.
Also, earlier, I trained alone without much support; now I have world-class facilities. I am confident enough to maintain my fitness and win a medal at the senior level.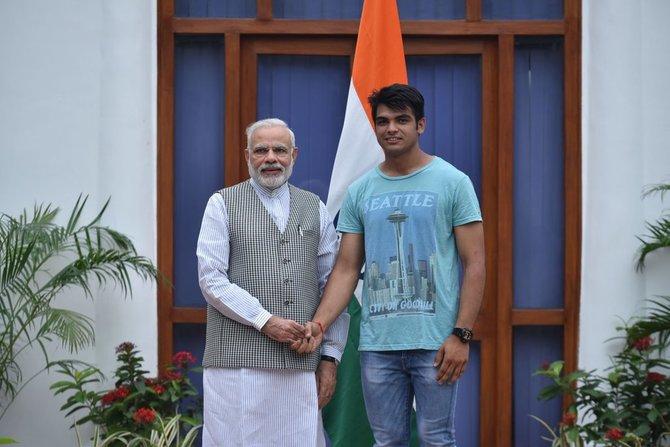 IMAGE: Neeraj, left, congratulated by Prime Minister Narendra Modi. Photograph: JSW/Twitter
What made you take up the javelin?
I am from a small village near Panipat. I used to visit the sports academy for fitness. I saw three professionals practicing this sport. I impressed them with my throw and they allowed me to train with them.
I won a gold medal at the 2012 National Games and started to take the sport seriously.
I went to Patiala for training. I didn't have any idols in the sport and learnt new tricks by watching videos of international athletes throwing the javelin.
Did you face any hardship during training?
My father is a farmer and mother a housewife. I had no idea about protein supplements needed for sport. I ate only normal food and most of the time was short of money during my training.
The javelin is not that big here in India and it was difficult to grow in this sport. Now I am confident with all the support that I can be a champion.
Talking of support, how important is it to support an athlete from the start of his career?
Very important, because the talent is there in India. It is important to nurture this talent and support these athletes from the start so that they don't quit the game because of the hardships they have to face.
Also, lack of support makes it difficult for an athlete to convince her/his parents to take up a sport other than cricket.
What is your immediate plan now?
I am aiming at a medal at the World Championships next year. This will be my first short at the senior international level and I want to prove my mettle.
Based on that performance we will review my plan for the 2020 Olympics.