'I feel like I'm rested enough. I've had... not the toughest matches. I can look at this quarter-final (on Wednesday against Milos Raonic) in a totally relaxed fashion'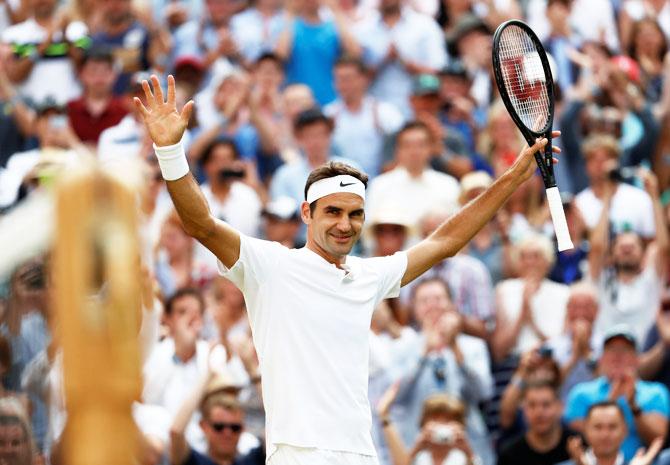 IMAGE: Roger Federer celebrates his fourth round win over Grigor Dimitrov on Monday. Photograph: Stefan Wermuth/Reuters
Roger Federer says he's fit and rested and getting more of a buzz than ever from winning grand slams -- and events on Monday suggested the Wimbledon stars could be aligning to ease his path towards a record 19th major title.
While the Swiss master had the purists purring on Centre Court as he dispatched Bulgaria's Grigor Dimitrov 6-4, 6-2, 6-4 in the fourth round, across the concourse on Court One his main rival Rafael Nadal was bowing out in a gruelling five-setter against Luxembourg's Gilles Muller.
The Spanish two-time champion's defeat did Novak Djokovic no favours either.
Scheduled to play Monday's third match on Court One, organisers were forced to push the Serbian second seed's encounter against France's Adrian Mannarino back to Tuesday due to the late finish of the Nadal-Muller epic that lasted almost five hours.
Meanwhile the final member of tennis's Fab Four, Andy Murray, struggled to live up to his billing as world number one in a laboured victory against another Frenchman, Benoit Paire.
So does that combination of circumstances put 35-year-old Federer, who missed this year's claycourt season to better prepare for his favourite tournament, in pole position to win an eighth Wimbledon?
"I feel like I'm rested enough. I've had... not the toughest matches. I can look at this quarter-final (on Wednesday against Milos Raonic) in a totally relaxed fashion," he told a news conference.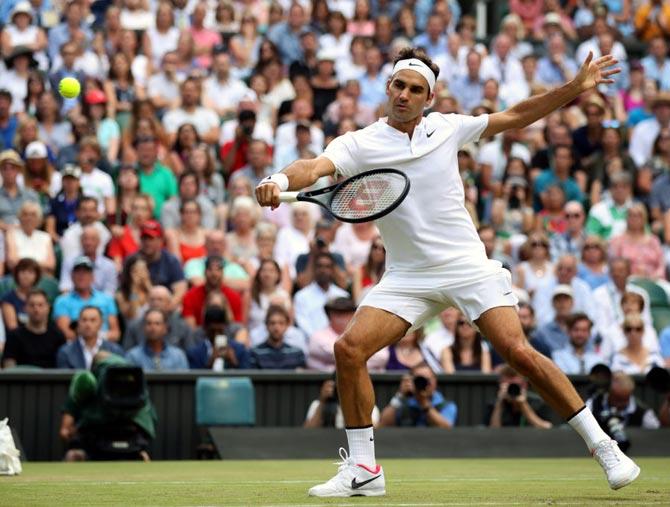 IMAGE: Roger Federer in action. Photograph: Julian Finney/Getty Images
The Canadian ousted Federer at the semi-final stage in 2016, but "physically I'm not fighting anything like last year with my knee (injury)."
The Swiss always looked in control on Monday, holding serve comfortably and playing the crunch points better than his 26-year-old opponent in a win that oozed confidence and control.
And after mining a rich seam of nostalgia in spectacular fashion in January's Australian Open final, when he beat Nadal in a five-set thriller, Federer is not lacking motivation either.
"I definitely put (that win) in the top five at least, if not top three," he said.
"I really just had a wonderful time in Melbourne... Maybe what I was most happy about is so many people were happy for me, that I actually was able to experience that feeling one more time to win a grand slam."
Even if he says he is anticipating a tough finish to this year's Wimbledon championships, at this stage few would bet against him rewinding the clock one more time on Sunday.