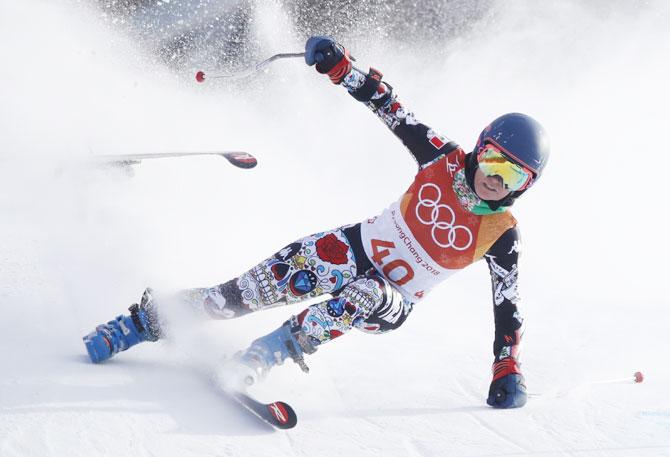 IMAGE: Mexican skier Sarah Schleper during the women's giant slalom in Yongpyong Alpine Centre in Pyeongchang on Thursday. Photograph: Christian Hartmann/Reuters
The skull-covered, Day of the Dead-themed uniforms worn by the Mexican Alpine skiing team are a hit with the athletes and have even won over their initially skeptical Olympic Committee, racer Sarah Schleper said on Thursday.
The suits, which depict red flowers and blue diamonds on top of enormous skulls in a homage to the Mexican holiday, at first stoked controversy among committee members.
But after seeing fans celebrate the bold attire, the controversy is itself dead.
"It feels amazing to ski in them," the 38-year-old Schleper told reporters after finishing her first run of the women's giant slalom event at the Yongpyong Alpine Centre.
"They said we won the gold medal for suit design so I'm proud to be rocking it. I tried to get really tight and fit to wear this speed suit."
She added the flamboyant ensemble fits the personality of the team, which was "full of passion and life and lust", perfectly.
The suits recall the exuberant mariachi folk costume worn by six-time Olympian Hubertus von Hohenlohe at the Games in Sochi in 2014.
While the 59-year-old is not competing in Pyeongchang, he was on hand to help Schleper cope with pre-race jitters on Thursday.
"He has been entertaining us all morning, singing, rapping," she said.
"Before my start I thought my voice was going away so we did some breathing techniques. I felt really confident and good in the start.
"He has been by far the most inspirational person I've met."
South Korea's 'Iron Man' battles foes in high-tech skinsuits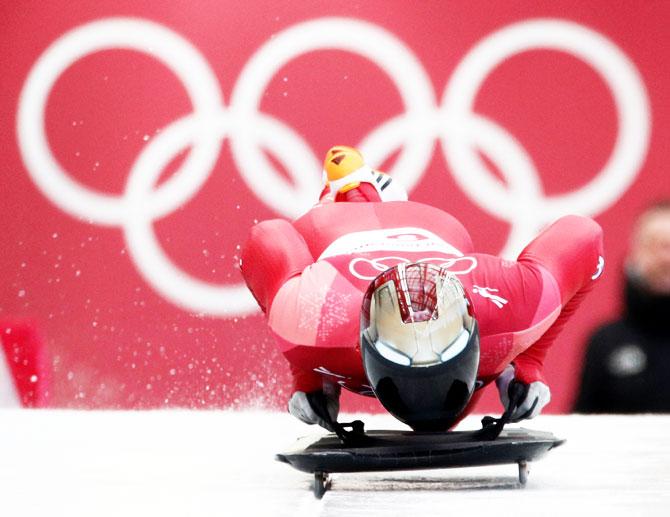 IMAGE: Yun Sung-bin of South Korea in action during the heat of the men's skeleton at Olympic Sliding Centre at the Winter Games on Thursday. Photograph: Edgar Su/Reuters
In his Iron Man helmet and red racing suit, South Korean Yun Sung-bin has seen off rival riders in high-tech skinsuits, led his heats in the men's skeleton and emerged as the one of the host country's favourite athletes at the Winter Olympics.
South Korean crowds have flocked to watch the 23-year-old at the Pyeongchang Olympics in his bid to win his country's first skeleton medal, preferably gold.
They have not been disappointed.
Yun set a track record during his second heat on Thursday, hours after his team's head said Yun knew the curves of the Olympic sliding centre better than anyone.
"The way people ride skeleton is similar to the way Iron Man flies," Yun said, speaking to Reuters after setting the record.
"He's also my favourite character, and that's why I wear him on my helmet."
Yun topped Thursday's heats amid ongoing grumbling from fellow athletes that the British rider's high-tech skinsuits are an unfair advantage.
British skeleton racers have said the team's equipment had been "checked and signed off" by tournament organisers.
Still, the skinsuits were not enough to pip "Iron Man", with Britons Dom Parsons fourth and Jerry Rice in 12th.
"My coach said they had changed their suits, but I don't know much about that," said Yun.
Yun's rise to South Korea's sliding superhero has been as fast as his times on the track.
At high school, a teacher recommended him as a slider to the deputy head of the Seoul Bobsleigh Skeleton Association, Kang Kwang-bae.
Yun turned up to the meeting wearing slippers, according to Sports Donga, and placed 10th among his group of fellow recommended students.
"Back then, he only had explosive strength and power, not skills," South Korea's bobsleigh and skeleton team head Lee Yong, who first met Yun when he was 19, told Reuters.
"I was a bit doubtful he'd get better. But he did".
Within three months of his meeting in slippers, Yun was on the national team. Now he has gold in his sights.
"He has loved Ironman since he was young, he's his role model," Kim Joon-ho, a childhood friend of Yun's, said as he watched the heats on Thursday.
"He's called Ironman because he's so fast."