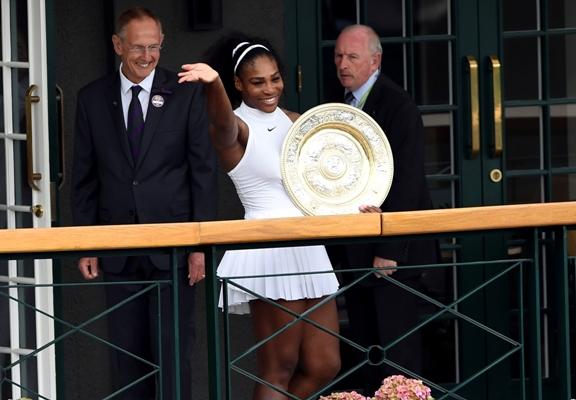 IMAGE: Serena Williams celebrates winning the womens singles final on the balcony outside centre court at Wimbledon. Photograph: Tony O'Brien/Reuters.
Serena Williams' memory is not as powerful as her first serve these days, although with so many achievements to recall it would be churlish to hold that against the American great.
However, when the 34-year-old world number one does finally call it a day, she says she will always remember the moment she beat Germany's Angelique Kerber on Sunday to equal Steffi Graf's professional era record of 22 grand slam singles titles.
"There's definitely some blurs between eight, nine and 10," the American who began her collection at the 1999 U.S. Open when beating Swiss Martina Hingis, told reporters.
"I don't even know where eight, nine and 10 were, or when. I definitely don't remember where 12 was. I remember one through four. Gets really blurry after that.
"But I will be able to definitely place this one."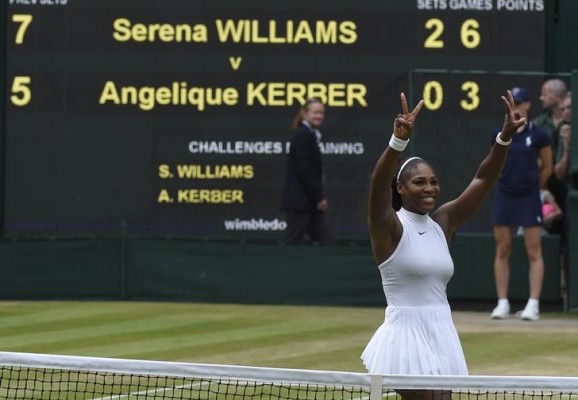 IMAGE: Serena Williams celebrates winning the women's singles final at Wimbledon. Photograph: Toby Melville/Reuters.
For good reason.
Williams won her 21st singles major a year ago by beating Spain's Garbine Muguruza at Wimbledon.
Since then her reputation as a ruthless "closer" has been questioned after the calendar year Grand Slam dream went up in smoke in the 2015 U.S. Open semi-finals, before defeats by Kerber and Muguruza in the Australian and French Open finals.
Williams banned herself from talking about the "22" as this year's Wimbledon entered its business end.
But after rediscovering her ruthless streak in her 28th grand slam singles final she said that it was a special feeling and there had been a few sleepless nights fretting about it.
"If I'm honest, coming so close, feeling it, not being able to quite get there," she said. "My goal is to win always at least a slam a year. It was getting down to the pressure.'