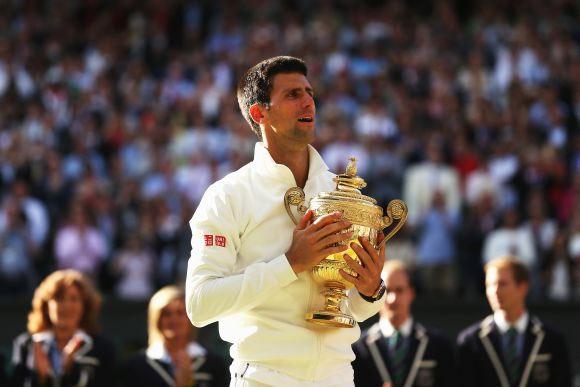 Novak Djokovic celebrates after winning the men's singles title at the 2014 Wimbledon. Photograph: Matthew Stockman/Getty Images
The prolific acceleration in the size of the overall prize money pot at Wimbledon is slowing but the grasscourt championships remains the richest of the four Grand Slams.

All England Club officials on Tuesday announced a seven percent overall rise, down from 10.5 percent last year, meaning overall prize money has surged by an eye-popping 152 percent since 2011 to 26.75 million pounds.

That figure is just ahead of the US Open's prize pool.

The latest round of increases, unveiled by All England Club chairman Philip Brook at a news conference, means the singles champions will each pocket 1.88 million pounds compared to the 1.76 million handed to Novak Djokovic and Petra Kvitova in 2014.

Prize money for the singles competitions has risen eight percent on last year.

Brook said the rapid rises in prize money for first round losers had slowed, however, with those players failing to survive a round of the singles taking home 29,000 pounds.

The French Open recently announced a 12 percent increase in total prize money, taking it to $29.61 million.

Last year's US Open had total prize money of $38 million.

"Without the world's best tennis players we wouldn't have the world's best tennis tournament," Brook told reporters.

"This level of prize money is affordable for the championships and we feel we should reflect that in what we pay the players."

This year's tournament begins a week later than usual on June 29, reflecting the All England's Club's drive to create a longer grasscourt season following the French Open.

The three-week build-up to the championships will feature new ATP grasscourt events in Stuttgart and Nottingham and a new WTA event in Nottingham while the Queen's Club and Halle tournaments have been bumped up to ATP 500 status.

A new WTA grasscourt tournament will start in Mallorca next year.
Evolution of prize money at Wimbledon
Factbox on Wimbledon prize money since 1968 after it was announced on Tuesday that each singles winner will receive 1.88 million pounds ($2.87 million) from a total prize fund of 26.75 million pounds at the 2015 event.

Total prize money for the tournament has risen seven percent from the 25 million pounds on offer in 2013.
| | | |
| --- | --- | --- |
| Year | Men's Singles (in Pounds) | Womens' Singles (in Pounds) |
| 1968 | 2,000 | 750 |
| 1969 | 3,000 | 1,500 |
| 1970 | 3,000 | 1,500 |
| 1971 | 3,750 | 1,800 |
| 1972 | 5,000 | 3,000 |
| 1973 | 5,000 | 3,000 |
| 1974 | 10,000 | 7,000 |
| 1975 | 10,000 | 7,000 |
| 1976 | 12,500 | 10,000 |
| 1977 | 15,000 | 13,500 |
| 1978 | 19,000 | 17,100 |
| 1979 | 20,000 | 18,000 |
| 1980 | 20,000 | 18,000 |
| 1981 | 21,600 | 19,400 |
| 1982 | 41,667 | 37,500 |
| 1983 | 66,600 | 60,000 |
| 1984 | 100,000 | 90,000 |
| 1985 | 130,000 | 117,000 |
| 1986 | 140,000 | 126,000 |
| 1987 | 155,000 | 139,500 |
| 1988 | 165,000 | 148,500 |
| 1989 | 190,000 | 171,000 |
| 1990 | 230,000 | 207,000 |
| 1991 | 240,000 | 216,000 |
| 1992 | 265,000 | 240,000 |
| 1993 | 305,000 | 275,000 |
| 1994 | 345,000 | 310,000 |
| 1995 | 365,000 | 328,000 |
| 1996 | 392,500 | 353,000 |
| 1997 | 415,000 | 373,500 |
| 1998 | 435,000 | 391,500 |
| 1999 | 455,000 | 409,500 |
| 2000 | 477,500 | 430,000 |
| 2001 | 500,000 | 462,500 |
| 2002 | 525,000 | 486,000 |
| 2003 | 575,000 | 535,000 |
| 2004 | 602,500 | 560,500 |
| 2005 | 630,000 | 600,000 |
| 2006 | 655,000 | 625,000 |
| 2007 | 700,000 | 700,000* |
| 2008 | 750,000 | 750,000 |
| 2009 | 850,000 | 850,000 |
| 2010 | 1,000,000 | 1,000,000 |
| 2011 | 1,100,000 | 1,100,000 |
| 2012 | 1,150,000 | 1,150,000 |
| 2013 | 1,600,000 | 1,600,000 |
| 2014 | 1,760,000 | 1,760,000 |
| 2015 | 1,880,000 | 1,880,000 |
(* NOTE: From 2007 Men and women earned the same)