'Everything that goes up must come down. But there comes a time when not everything that's down can come up' - George Burns
Roger Federer has achieved another first!
However, it is not something he will be proud of, or would like to be reminded about.
When Jo-Wilfried Tsonga beat the Swiss 3-6, 6-7(3), 6-4, 6-4, 6-4 on Centre Court at the All England Club, it not only saw Federer exit at the quarter-final stage for the second successive year, but also meant he had, for the first time in his illustrious career, lost a Grand Slam match after having secured a two-set lead.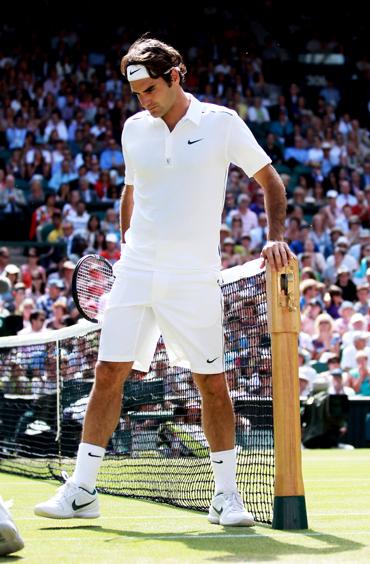 More important is the fact that it happened at Wimbledon, a venue where the Swiss maestro was the most dominant player in recent times. In fact, a few years back it would have been impossible to comprehend Federer losing a match at the All England Club after having taken such a lead.
Now, it is reality!
The Frenchman, a finalist at the Australian Open in 2008, is no doubt a capable player. His improvement on grass can be judged by his final appearance at Queen's Club a fortnight back, where he beat defending Wimbledon champ Rafael Nadal en route. 
But, going into the last eight match on Wednesday, his record against Federer stood at 1-4, the lone win being a 7-6(5), 1-6, 7-6(3) verdict in the quarters at the Montreal Masters in 2009, in a match that could have gone either way (as the score line suggests). 
The Swiss had not lost a set in the other four matches against him -- winning comfortably at Doha and Rome earlier this year. Even an ardent Tsonga fan wouldn't have bet in favour of him securing a win over the six-time champion. 
But that is precisely what he did, in the process erasing one of Federer's longstanding records at the majors -- the Swiss had a commanding 178-0 record after winning the first two sets in a Grand Slam match. For that matter Federer had, prior to Wednesday, lost a two-set lead just twice before in his entire career -- against Australian Lleyton Hewitt in the 2003 Davis Cup semi-finals and then against Argentine David Nalbandian in the 2005 Tennis Masters Cup final in Shanghai.
More importantly, the defeat reiterated the fact that Federer's decade-long marriage with Wimbledon is heading for an imminent divorce.
Having shocked seven-time champion Pete Sampras in the fourth round in 2001 -- and subsequently hastening the American's exit from the sport and announcing his arrival on the big stage, Federer has, in recent years, been getting similar treatment.
The last five years at the All England Club have been anything but smooth-sailing for the genial Swiss. While he struggled to beat nemesis Nadal in 2007, thereby equaling the legendary Bjorn Borg's record of five straight titles, the Spaniard turned tables the following year.
Federer did regain the title in 2009 (in Nadal's absence) but not before digging deep and using his experience as a shield. For, Andy Roddick, playing in his third Wimbledon final (having lost twice to the Swiss earlier), played what was arguably the best match of his career.
Federer did manage to scrape through 5-7, 7-6(6), 7-6(5), 3-6, 16-14, but his rivals got the message loud and clear: the Swiss star's invincibility was on the wane, even on a surface (grass) he had dominated for years -- Federer's 65-match unbeaten run on grass from 2003 to 2008 is an Open Era record. 
Australian Lleyton Hewitt was the first to prove the same -- ending a 15-match losing streak by beating Federer in the final at Halle (Germany) last year. Czech Tomas Berdych followed suit two weeks later, scoring a relatively comfortable win over the Swiss in the quarter-finals of Wimbledon.
And Tsonga's win on Wednesday meant Federer's wait for a record-equaling seventh title at the All England Club just got longer while his aura at the venue received yet another battering.
The 30-year-old has already achieved so much in his illustrious career that even a regulation win now helps him create a new personal landmark. His fourth round win over Mikhail Youzhny this year, for example, was his 100th grass court win, making him only the second an active player after Hewitt (104-27) and the seventh overall to achieve the feat.
It was also his 223rd career match win in a major (223-33), moving him ahead of Ivan Lendl into the third place on most wins in the majors (Open Era) list, behind Jimmy Connors (233-49) and Andre Agassi (224-53).
And even while being defeated by Tsonga, the Swiss was playing in his 29th successive Grand Slam quarter-final -- yet another milestone.
Wimbledon is akin to a bastion for the Swiss. He still enjoys a spectacular record (59-7) at the venue.
However, also true is the fact it has been breached thrice in the last four years - the other four losses happened at the start of his career. 
It took just one defeat (against John McEnroe in 1981) for Borg, whose record of five successive wins Federer equalled, to realize his love affair with the All England Club was over. The Swede never returned to venue, thereby ensuring he finished with an enviable 51-4 career record.
Federer's case is a predicament. The prospects of a record-equaling seventh title can't be denied as also the fact that it might just be a futile pursuit which, at most, would ensure addition to the losses column.
At 30, age is definitely not on his side. Moreover, marriage and fatherhood have palpably meant a change in his priorities.
In such a scenario, it is for the Swiss maestro to decide if he wants to continue his pursuit of title No.7, or wind up with his existing (impressive) record. 
One thing is clear though -- the grass is no longer as green as it used to be.