A heady mix of talent and gumption, Garbine Muguruza now in the same league as Arantxa-Sanchez Vicario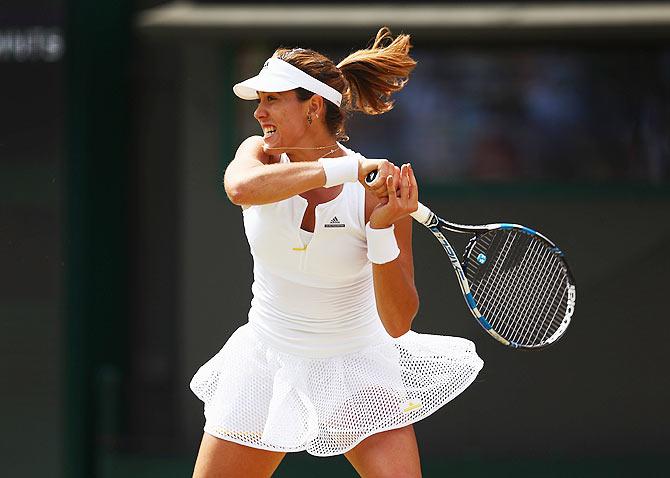 Spain's Garbine Muguruza plays a forehand in her quarter-final match against Switzerland's Timea Bacsinszky. Photograph: Clive Brunskill/Getty Images
A little bit of the Williams sisters' power combined with Maria Sharapova's mental strength and blended in with Martina Hingis's tactical nous -- that heady mix of talent made Garbine Muguruza into the "perfect player" who reached the Wimbledon semi-finals.
Three years ago Muguruza took an instant dislike to grass after losing her first match on the lush surface in Birmingham.
On Tuesday, however, her new-found love-affair with the green turf blossomed as she became the first Spanish woman in 18 years to reach the last four after a 7-5, 6-3 win over Swiss Timea Bacsinszky.
So how did the 21-year-old turn herself into a world beater on grass?
"I always like to take little parts of every player and try to do the same things," grinned the Venezuelan-born Spaniard.
"You see the Williams sisters, the power.
"You see Maria, she has a very good mentality and she's very focussed during the whole match.
"Or Hingis, she has very good talent.
"You just take a few things and make your perfect player."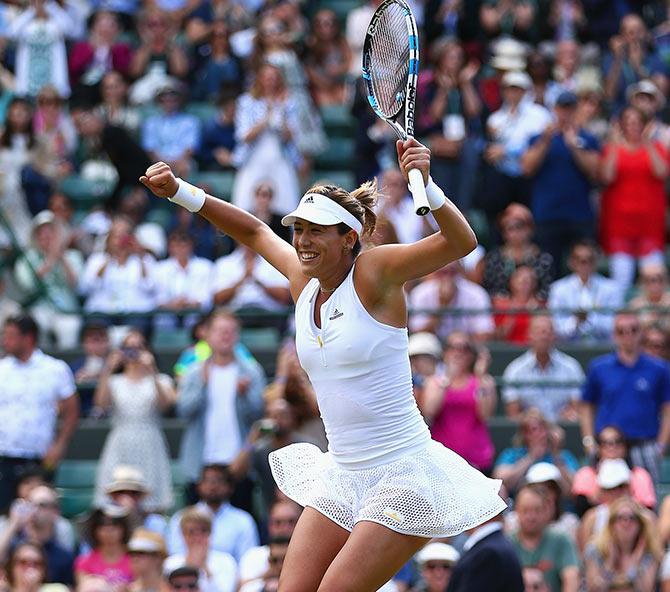 Garbine Muguruza celebrates victory against Timea Bacsinszky in their Wimbledon quarter-final on Tuesday. Photograph: Clive Brunskill/Getty Images
That "perfect player" found her comfort zone on Tuesday to outwit and out-hit Bacsinszky.
Muguruza, who was three years old when fellow Spaniard Arantxa-Sanchez Vicario reached the last four in 1997, pocketed the first set when her opponent whipped a forehand wide.
She kept up the momentum in the second.
After watching 15th seed Bacsinszky roll the ball into the net on match point, Muguruza collapsed on to her back before getting up to bounce around court in joy.
"Amazing, I am so happy. It was a very tough match so I'm really excited," the 20th seed said as she set up a semi-final date with 2012 runner-up Agnieszka Radwanska of Poland.
"I'm surprised that my first (major) semi-final is on grass.
"I know it is very hard to achieve this so I am very proud. I've been very interested in tennis since I was three years old so for me it's my life.
"My first semi-final and for it to be here at Wimbledon on grass, I am very excited and looking forward to it."