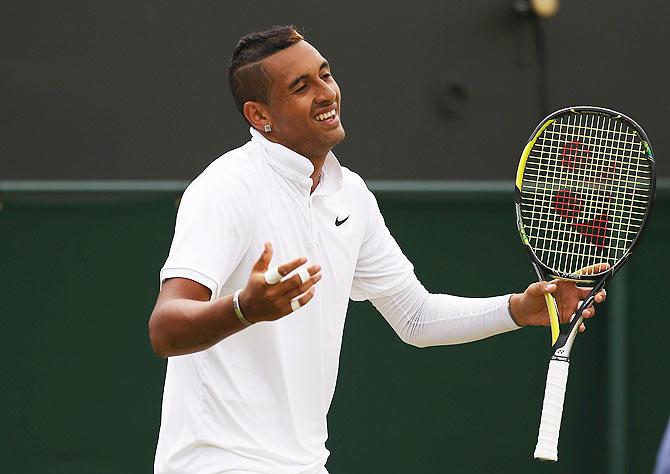 Australia's Nick Kyrgios reacts in his fourth round match against France's Richard Gasquet on Monday. Photograph: Ian Walton/Getty Images
Nick Kyrgios has been stunned by the ferocity of criticism levelled at him over his behaviour at Wimbledon and has called on his fellow Australians to show him respect even if they cannot love him.
The 20-year-old said he had contemplated walking away from the game he admits he does not "love" after being hammered in the media, both traditional and social, in the wake of his fourth round loss to Richard Gasguet at the All England Club.
Olympic swimming great Dawn Fraser apologised on Tuesday for saying Kyrgios and Bernard Tomic should "go back to where their parents came from" if they did not behave properly on court but that has not stemmed the flood of vitriol.
"It's been tough for me waking up everyday with negative messages," Kyrgios told Fairfax media.
"People don't really know what goes on in my life. I've read a lot of what's been said about me.
"I've read a whole lot. Comments like 'he shouldn't be representing Australia', 'he's a disgrace'. It's tough to read. I'm human.
"I don't really want them to love me. I don't want their love, but everyone deserve respect."
Kyrgios and 22-year-old Tomic, numbers 29 and 26 in the world, are Australia's best hopes of ending a 13-year men's singles Grand Slam title drought which goes back to Lleyton Hewitt's 2002 Wimbledon triumph.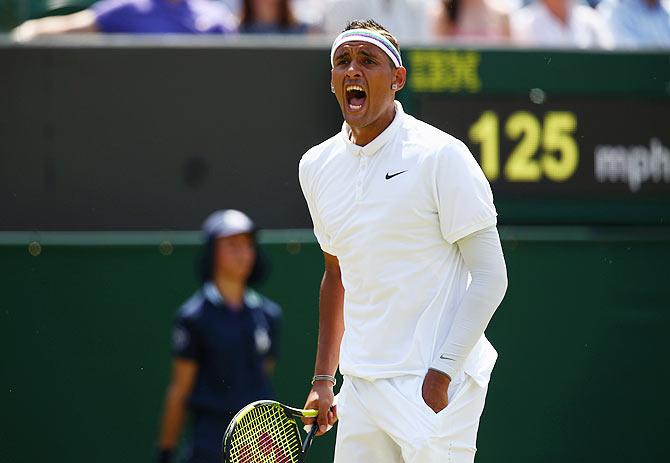 Nick Kyrgios has long said that he would not try to stifle his on-court emotions as he thinks it makes him a better player. Photograph: Clive Brunskill/Getty Images
Quarter-final appearances at Wimbledon last year and Melbourne Park in January saw Kyrgios assume the greater weight of expectation but the focus after Monday's exit was on the manner of his departure from the All England Club.
While showing off his brilliant shot-making, Kyrgios was fined for an audible obscenity, indulged in a running debate with the umpire and had to defend himself afterwards against accusations of "tanking", or giving up.
Kyrgios has long said that he would not try to stifle his on-court emotions as he thinks it makes him a better player but admitted the criticism was having an impact.
"I don't try and be anyone else when I'm on the court," he said.
"I try and just play the game and get emotional here and there. At the end of the day, I'm just shocked with what's happened. I'm just really shocked on how people have responded and reacted and what they've said. I'm really shocked.
"I'm not asking everyone to love me but at least know me as a person first before you judge me," he added.
"I don't write bad tweets about anyone else. I don't say anything bad about anyone else. I'm not this person everyone thinks I am."
In addition to the criticism of his behaviour, Kyrgios has also been distracted by the illness of his grandfather, who has cancer, and the public spat between Tomic and Tennis Australia, which led to his friend being dropped from the Davis Cup team.
"At times I feel lost. I'm questioning what I should do out there and that's a bad thing. I'm a guy that's always played on instinct on the tennis court. That's how I should be," he added.