PHOTOS from the Wimbledon Championships matches played at the All England Lawn Tennis and Croquet Club, London, on Saturday
Federer bags more records as he downs Pouille to reach last 16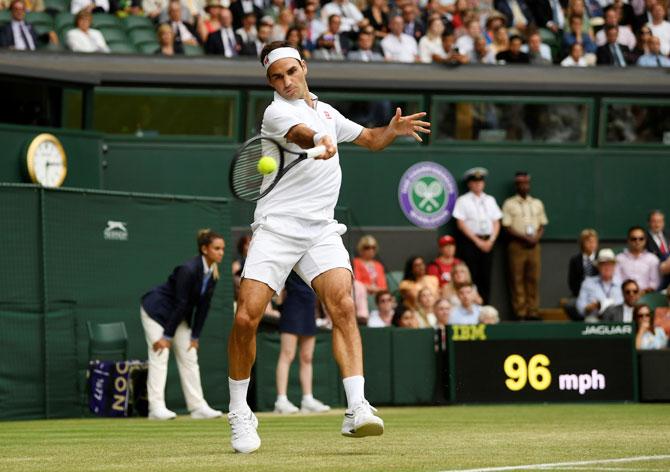 Roger Federer kept tennis statisticians on their toes on Saturday as he mopped up a few more records by trampling all over Lucas Pouille's dreams in a rip-roaring 7-5, 6-2, 7-6(4) win to reach the fourth round of Wimbledon.
The Swiss became the first player -- man or woman -- to notch up 350 match wins at the majors.
But as the father of two sets of twins, Federer seems to have a penchant for doing things in pairs and Saturday was no different as he also set a professional era record of reaching the last 16 for the 17th time -- surpassing the previous benchmark he had shared with Jimmy Connors.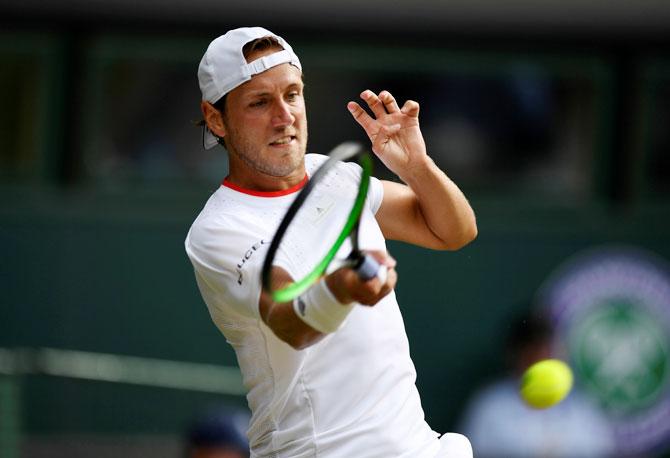 But the Swiss is unlikely to be popping champagne corks to celebrate either milestone as he has his eyes firmly set on a much, much bigger prizes -- a record ninth Challenge Cup and a 21st Grand Slam title.
To get closer to that, however, he will first have to negotiate his way past Italian 17th seed Matteo Berrettini.
Australian Open semi-finalist Pouille was cheered on by his coach Amelie Mauresmo as he played his part in an entertaining match that was more keenly contested than the score suggests but he bowed out after netting a backhand on Federer's third match point.
Dominant Nadal sees off Tsonga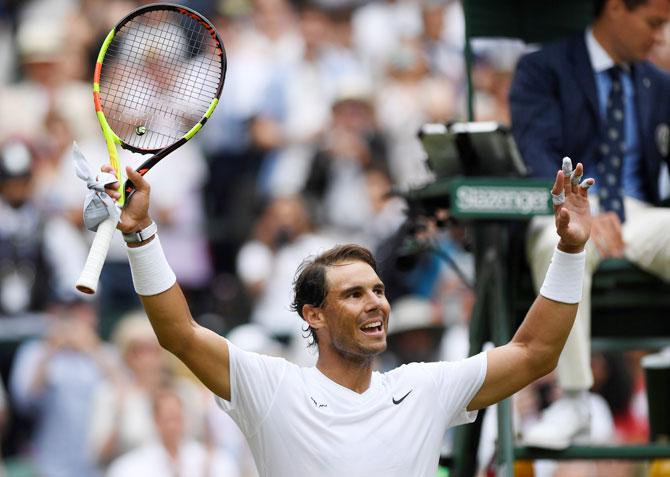 World No 2 Rafael Nadal marched into the fourth round at Wimbledon with a dominant 6-2, 6-3, 6-2 rout of France's Jo-Wilfried Tsonga on Saturday.
The Spanish third seed was in command throughout the match, and finished the contest in an hour and 48 minutes without conceding a single break point, sealing the result on his fourth match point with his 11th ace.
Nadal broke early in the opening set to go 3-1 up as Tsonga struggled with his second serve, which allowed the Spaniard to control points and consistently approach the net to finish rallies.
Another break point at 5-2 opened the door for Nadal to attack Tsonga further and a whipped crosscourt forehand winner on set point gave the Spaniard the first set in 33 minutes.
Tsonga exhibited the odd flash of brilliance, with searing aces and a rare approach to the net after pushing Nadal behind the baseline, but a number of high-risk shots down the line did not come off for the Frenchman.
Tsonga's serve deserted him at crucial moments, however, and a double-fault on break point in the second set gave Nadal a 4-2 lead, with the visibly frustrated 34-year-old Frenchman seen muttering to himself with helpless glances towards the players' box.
Although Tsonga offered token resistance while serving to stay in the second set, Nadal served out the set by taking advantage of his opponent's slower movement with pinpoint winners.
Despite the crowd urging the underdog on, Nadal earned a double break to consign Tsonga to defeat and book his place in the next round where he will face Portugal's Joao Sousa or Briton Dan Evans.
The real Serena finally shows up at Wimbledon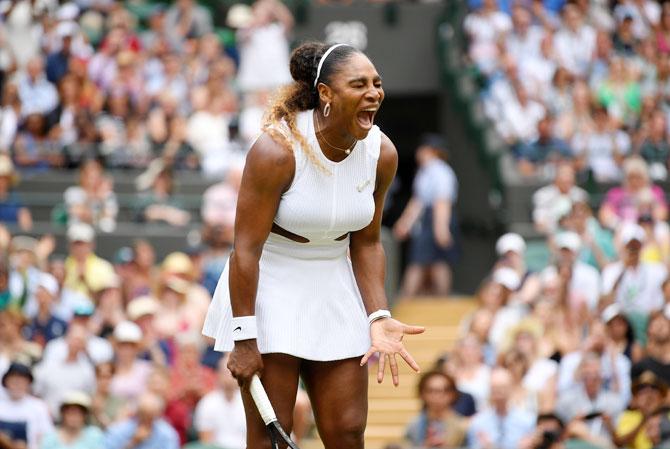 A loud and brash Red Arrows flypast over Wimbledon's Court One provided a timely distraction on Saturday that allowed the real Serena Williams to finally show up at the All England Club this year.
Before the unexpected interruption, there definitely seemed to be something amiss.
The impostor who had turned up this week looked like Serena and sounded like Serena but she definitely did not play like a champion who owns 23 Grand Slam singles titles.
How else would one explain the American dropping a set against a 133rd-ranked qualifier in the second round or squandering three break points from 0-40 up against Germany's Julia Goerges on Saturday?
But once the plumes of smoke left behind by the Red Arrows had painted the overcast sky a patriotic red, white and blue, the seven-times Wimbledon champion's competitive fires burned brightly and she screamed to a 6-3, 6-4, win over Goerges to reach the second week of Wimbledon for the 16th time.
"It's been an arduous year for me so every match I'm hoping to improve. Every time I go out there I try," said the 37-year old, whose build-up to the grasscourt major had been hampered by a knee injury.
"I'm getting a really late start (in all of my matches here so far, but) all that matters is that I am still here."
And being in the fourth-round mix means that it is still game on for that record 24th Grand Slam title that has proved elusive over the past year - when final appearances at Wimbledon and Flushing Meadows both proved to be lost causes.
Life certainly should not have been so difficult for Williams against her first two opponents this week - 161st ranked Giulia Gatto-Monticone or Slovenia's Kaja Juvan - considering they were both little-known qualifiers.
Against Goerges, she should have been confident of victory since the German had failed to take a set off Williams in four previous meetings - including last year's semi-final here.
But when Goerges soaked up everything Williams could throw at her to fight back from 0-40 down to hold her serve in the second game of the opening set, it seemed this might be another long day.
But Williams could not really afford to dilly-dally around court too long on Saturday considering this match was just a dress rehearsal for a more pressing engagement she had later in the day -- to partner Britain's most famous tennis son Andy Murray in the mixed doubles.
As if on cue, the Red Arrows shot through the sky just as Goerges was about to begin serving in the sixth game.
While the crowd looked skywards, Williams only had Goerges in her sights and cut the German down by immediately breaking for a 4-2 lead.
The trademark roar was back rocking Court One and it was game over -- at least for now.
"There's such a buzz around about me and Andy, that I've gotten nervous now. I feel like I might have a bit of performance anxiety! I hope I can live up to the hype," Williams said.
"I'm ready, and I'm excited but I am definitely nervous."
Brutal Barty hungry to extend dominant run at Wimbledon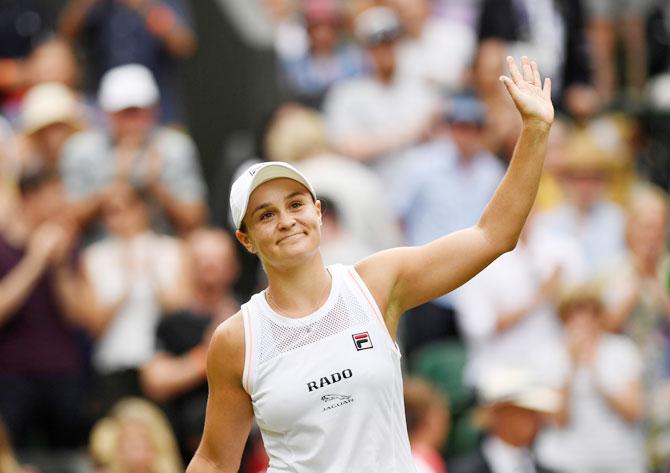 Having dropped only two sets in her last 15 matches, Ash Barty's opponents are getting used to her exhibiting a streak of near fiendish brutality.
Harriet Dart, the 182nd-ranked Briton, was her 15th consecutive victim -- gathering only two games in a 6-1, 6-1 defeat at Wimbledon on Saturday that sent the world number one into the last 16.
With enough menace to leave any prospective future opponents twitching uncomfortably in front of their televisions, Barty made mincemeat of Dart, wrapping up victory by winning the 20th consecutive set of a remarkable run of dominance.
The Australian has not dropped a set since the French Open semi-finals, where she clinched her first Grand Slam title last month, and looks in no rush to relinquish the number one spot in women's tennis that so many others have found too hot to handle.
Her predecessor as number one Naomi Osaka said the summit came with intolerable stress.
Yet for Barty, who says her three-year-old niece has been imploring her to aim for "infinity and beyond", reaching the top is viewed as a stepping stone rather than an end destination.
"I'm still extremely hungry and driven to try to do well, to try and grow and develop as a player and a person, trying to take as much as I can from every single match, learn from every single match, then keep going forward and keep striving to be better," she said after dismissing Dart in 53 minutes.
The win put her into the last 16 at Wimbledon for the first time in a period of her career when milestones are being achieved on an almost daily basis.
Having won her first Grand Slam title in Paris, she became the first woman to win Roland Garros and a grasscourt tournament in the same season since Justine Henin 12 years ago when she triumphed in Birmingham last month.
She was then seeded number one at a major for the first time at Wimbledon and made her debut as a singles player on the All England Club's hallowed Centre Court on Saturday.
She was a heavy favourite to prevail against Dart, who was making only her third Grand Slam main draw appearance and had been managing an ankle injury since she took a first-round tumble.
The Britain, who was jettisoned by mixed doubles partner Jay Clarke for American teenager Cori Gauff, was broken twice in a first set that flashed by in 25 minutes and three more times in the second.
"I kept the foot down and I was able to stay in control of most games," said Barty, who will play American Alison Riske in the next round.
Kvitova eases past Linette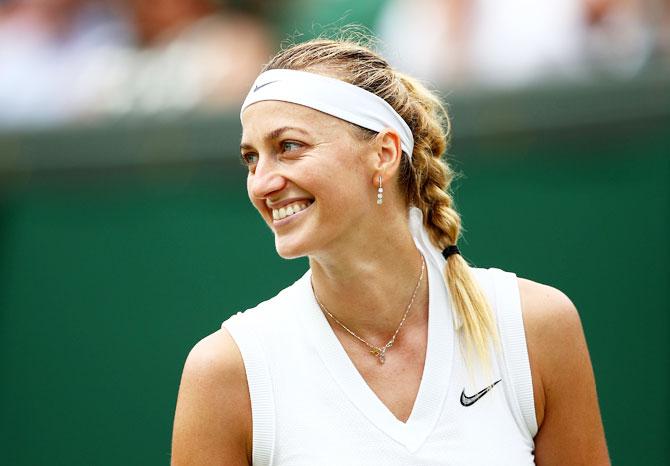 If ever less really was more, it would appear to be the case at Wimbledon for twice-champion Petra Kvitova.
The Czech had not played a tennis match since pulling out of the French Open in May with an arm injury, but on Saturday handily beat Poland's Magda Linette 6-3, 6-2 to reach the fourth round.
She's not really practising, and not really stressing about her progress, and that seems to be the perfect formula as she eases through the draw.
"Every match gets better," Kvitova smiled.
"Matches are the best practice... Now my mind, it's more focusing on the arm than maybe on the tennis.
"I'm pretty confident, I have a day off tomorrow. Of course, as I mentioned already many times before, the pain can come in the forearm and I have to retire.
"I'm really taking it very positive that I finished the match with the win, of course. That's really important for me. I'm not really looking too ahead. I'm glad that I'm able to find a good performance during the match. I think when I play longer, it's just getting better."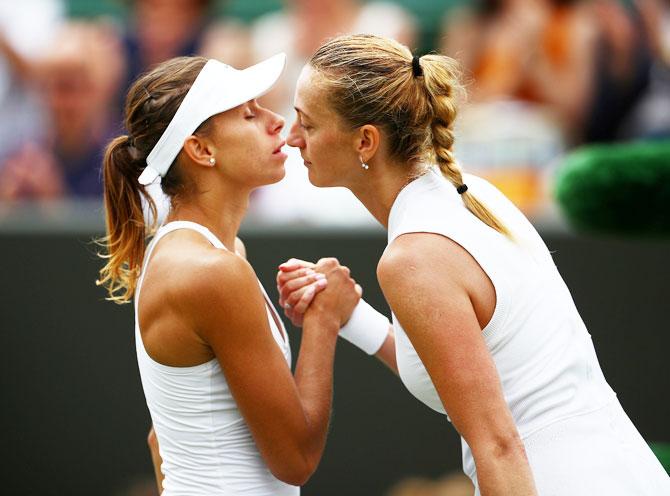 Next up for the 29-year-old Kvitova, champion here in 2011 and 2014, is a fourth-round clash with either American ninth seed Sloane Stephens or British 19th seed Jo Konta.
"Jo, I think for her, the grass is really going in the good way when she's playing kind of flat shots from both sides, especially from the backhand. I think she likes to play on the grass. Of course, the crowd will be on her side," Kvitova said wistfully.
"I little bit know what she's playing, what she's able to do. Will be difficult match, for sure.
"The same with Sloane. She's playing a little bit different. She's a really great mover on the court."
Twice Wimbledon champion before a knife-wielding man sliced her playing left hand in a robbery around Christmas 2016, Kvitova knows the mental strength it takes to succeed at a Grand Slam, and knows what she needs to do in what she describes as her 'second career'.
"If I'm just pushing the balls there, I don't think that I do have any big chance. With the strokes which I play today, even from the returns already was the key of it. I am going to try my best to continue this kind of performance."
Nishikori racks up milestones at Wimbledon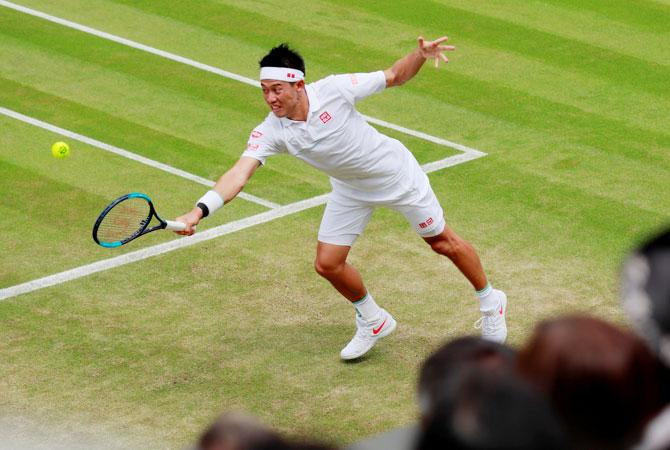 Kei Nishikori's quiet-but-efficient victory at Wimbledon on Saturday will feature in no tournament highlight retrospectives, but it did make some milestones.
The 6-4, 6-3, 6-2 win over American Steve Johnson marked the player's 400th tour-level match win and saw him reach the round of 16 for a fourth time, sharing the Japanese record with Ai Sugiyama.
The eighth seed will next face Kazakh Mikhail Kukushkin for a place in the quarter-finals.