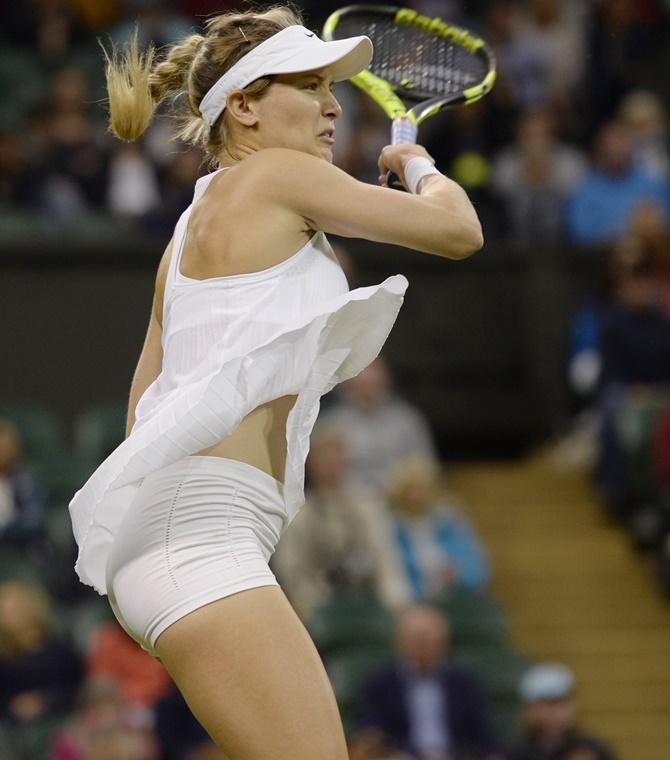 IMAGE: Canada's Eugenie Bouchard sizzles. Photograph: Tony O'Brien/Reuters.
When it comes to the dress code at Wimbledon, it is easy. Predominantly white!
But such a seemingly simple mandate gets tough for designers.
Many outfits have created controversy during the tournament.
This year, Nike's outfit for female pros is generating plenty of discussion. The short dress looks like a flimsy piece of nightwear.
Canada's Eugenie Bouchard, though, is happy with the controversial outfit.
"I like it," Bouchard said.
"I can't comment on anyone else's opinion about them. Nike comes up with some cool, modern designs. And it's definitely short, but that's how I like my dresses, so I'm fine with it."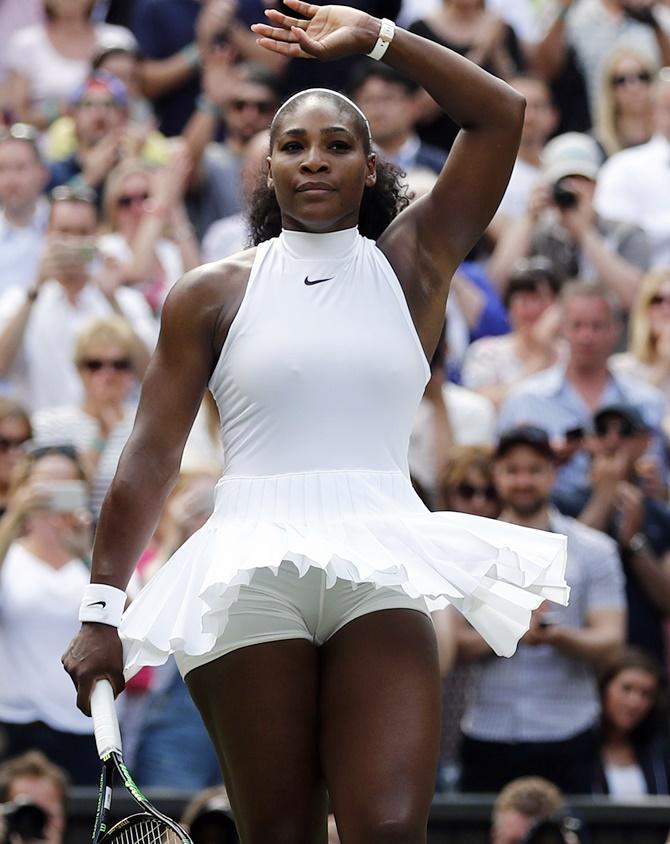 IMAGE: Serena Williams's outfit reveals more than required. Photograph: Stefan Wermuth/Reuters.
On the other hand, Serena Williams is making waves at the grasscourt Slam, not just for her tennis but also her outfit.
Centre-court viewers were shocked by her revealing top.
The tight white top leaves very little to the imagination, with one sports fan tweeting: "With all the money Serena Williams earns, why can't she buy a decent sports bra which covers her nipples properly?"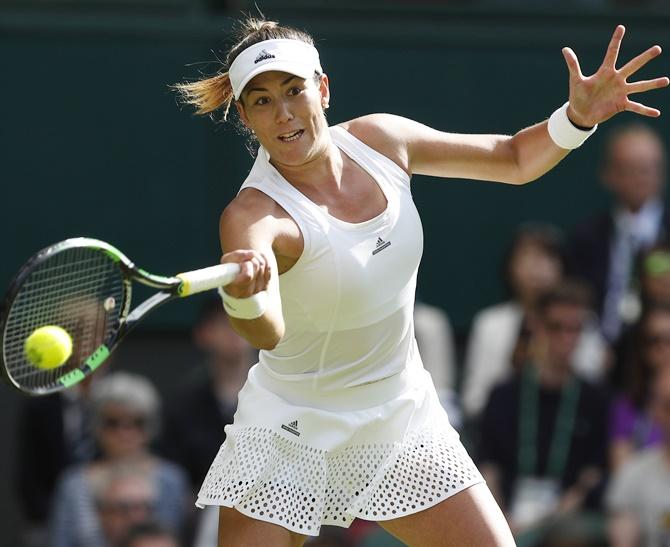 IMAGE: Spain's Garbine Muguruza. Photograph: Paul Childs/Reuters.
French Open champion Garbine Muguruza took Wimbledon fashion to a new level with her Stella McCartney dress. It had laser-cut holes and a distinct feminine style.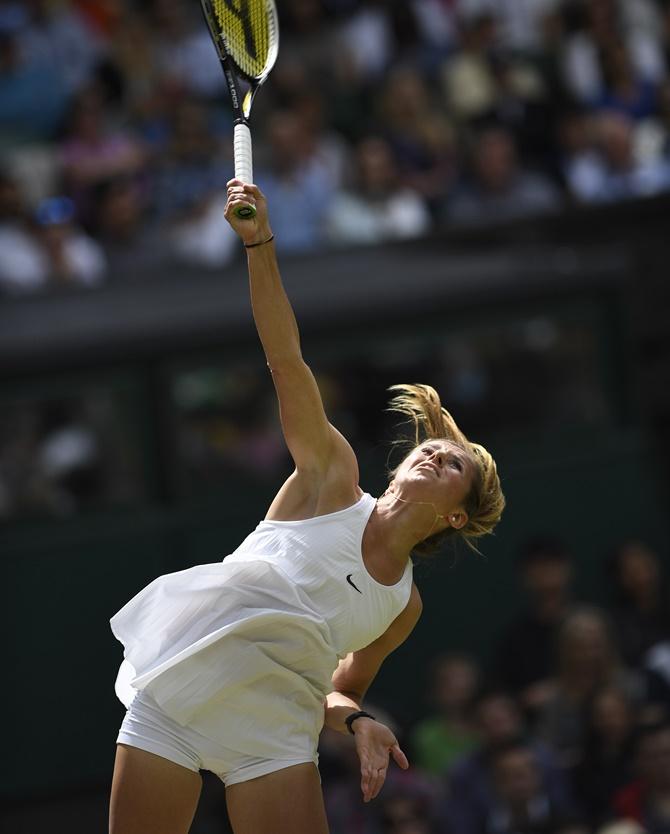 IMAGE: Germany's Annika Beck in action. Photograph: Tony O'Brien/Reuters.
Nike's dress exposed the midriffs of many female tennis stars, distracting them from their game and forcing them to make court side alterations.
While the design was in accordance with Wimbledon's dress code, several players said it was not ideal for competitive tennis.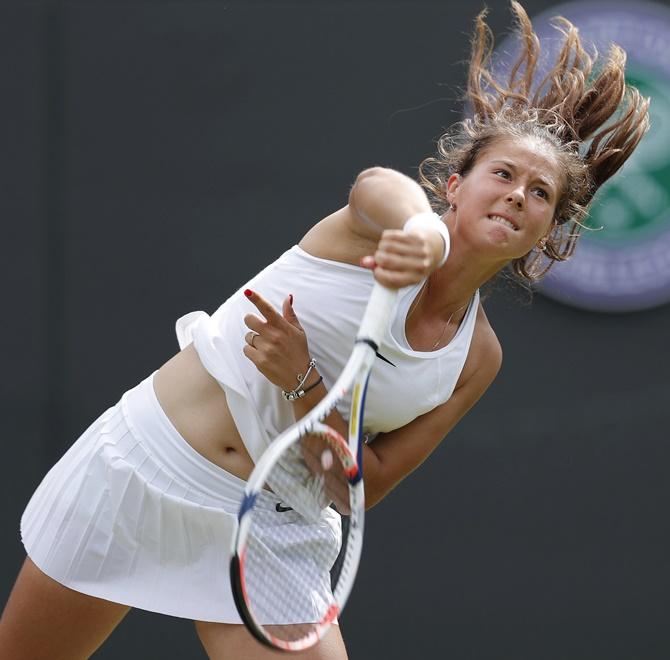 IMAGE: Russia's Daria Kasatkina opted for different outfit. Photograph: Andrew Couldridge/Reuters.
The Daily Mail reported that Nike had sent its players a message marked 'important,' asking players to bring their dresses in for "a small change as per rules."
While the dresses were not lengthened, the slits on each side were sewn up, making the fabric of the dress less prone to flying up.
Daria Kasatkina quickly opted for the switch.
"I'm really happy that I have this opportunity, because if you feel good on the court you can play better," Kasatkina said.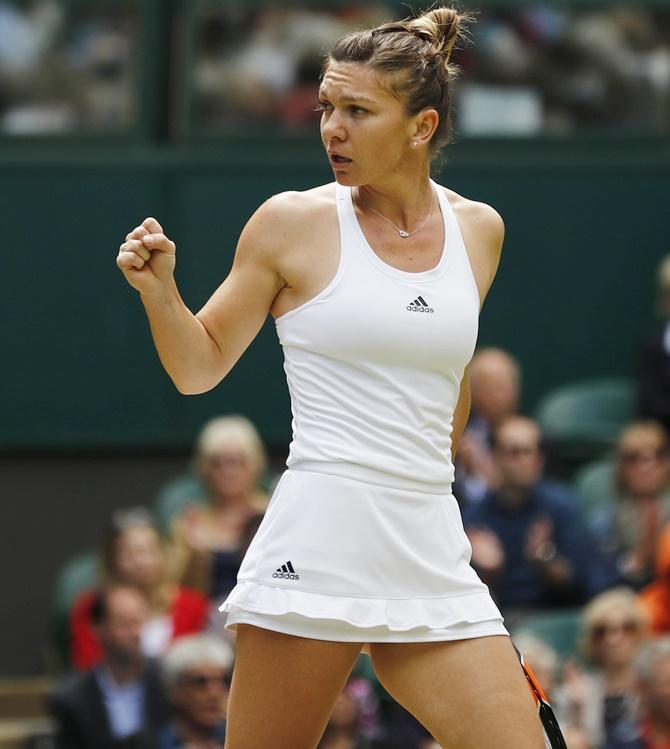 IMAGE: Romania's Simona Halep spotted in a classic outfit. Photograph: Stefan Wermuth/Reuters.
Meanwhile, Simona Halep also went for a timeless look at the tournament.