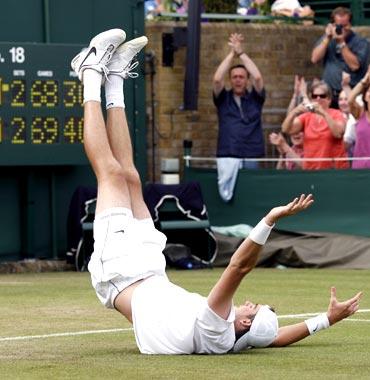 Wimbledon returned to something resembling normality at 4.48pm on Thursday when American John Isner punched away a backhand winner past Nicolas Mahut to win a match that had left the tournament in suspended animation.
Not even Queen Elizabeth's first visit to the All England Club since 1977 or Rafael Nadal's flirtation with danger could overshadow a record-shredding contest that ended 70-68 in Isner's favour in the deciding set after 11 hours and five minutes of hypnotic action on Court 18 that spanned three days.
The previous longest match was the six hour 33 minute duel between Frenchmen Fabrice Santoro and Arnaud Clement at Roland Garros in 2004. The last set alone in the Isner-Mahut war of attrition lasted more than eight hours.
Whatever happens for the rest of the tournament, be it a seventh Roger Federer triumph or an Andy Murray coronation, it will not impact as widely as a rather nondescript-looking first round match between towering American Isner and French journeyman Mahut.
Previously just on nodding terms in locker rooms around the world, Isner and Mahut will now be inexorably linked by a contest that transcended all previous sporting logic.
"After a certain point, maybe 25 all, I lost track of it," Isner, who smashed a world record 112 aces, told reporters after both he and Mahut had been presented with crystal bowls and champagne flutes during an on-court presentation to mark their jaw-dropping 183-game match.
"The guy is an absolute warrior. I want to share this day with him, it was an absolute honour. I guess this is something Nic and I will share forever."
GREATEST TOURNAMENT
Qualifier Mahut, who collapsed into his chair and looked close to tears at the end, was admirably composed as he was paraded in front of the surreal looking scoreboard which read 6-4, 3-6, 6-7, 7-6, 70-68 in Isner's favour.
"We played the greatest match ever at the greatest place to play tennis," Mahut, who held serve an astonishing 64 times to stay in the match and blasted 103 aces of his own, said. "Wimbledon is the greatest tournament and we just played the greatest match ever."
The monarch was already back at Buckingham Palace by the time Isner was collapsing in disbelief after his victory over the valiant Mahut but she left the All England Club nodding her approval after watching Murray sparkle in the sunshine.
It is 33 years since she handed over the women's singles trophy to British heroine Virginia Wade, and Murray will hope her return will be a good omen in his mission to end a 74-year wait for a home men's champion.
The world number four's royal etiquette was exemplary as he and opponent Jarkko Nieminen both bowed immacutely in front of the Royal Box, and his tennis was regal too as he took his opponent apart after a slightly self-conscious opening game.
"He had a few break points in the first game. Then once I managed to hold that game, I obviously got the break straight away and that settled me down a little bit," Murray said after reaching the third round with a classy 6-3, 6-4, 6-2 victory.
Asked whether his bowing was up to scratch, Murray was not so sure. "I saw the second one when I was warming down," he said. "They were replaying it. It wasn't great I don't think."
Murray is seeded to face Nadal in the semi-finals but for a while on Thursday the Spaniard's immediate future in the tournament looked in jeopardy against Dutchman Robin Haase.
Top seed and defending champion Federer has scrapped his way through the opening two rounds, dropping three sets in the process, but now it was Nadal's turn to sweat.
The Spaniard lost the first and third sets and looked in trouble before emerging with a 5-7, 6-2, 3-6, 6-0, 6-3 victory.
"I'm very happy to win in five sets," Nadal, who will play Germany's Philipp Petzschner said.
"Everybody prefers to win in three, but is not possible a lot of times, especially on this surface because it all depends on a few points."
Despite Mahut's record-breaking defeat it was a good day for the Frenchmen. Jo-Wilfried Tsonga's 6-4, 6-4, 6-7 5-7, 10-8 victory over Alexandr Dolgopolov of Ukraine was one of several French successes that slipped under the radar.
Jeremy Chardy and Julien Benneteau were also taken the distance in reaching the third round where they join countrymen Arnaud Clement and Gael Monfils who play Federer and Lleyton Hewitt respectively on Friday.
Women's top seed Serena Williams took out her frustration at not playing in front of the Queen by thrashing Russia's Anna Chakvetadze 6-0, 6-1 on Court Two.
"The only way to console me was that I just saw so many kids, these little girls, these little boys. I gave some things away. It was fun," the top seed said of her appearance on a court that rarely hosts defending champions.
There were few surprises in women's second-round action.
Maria Sharapova, the 2004 champion, beat Romania's Ioana Raluca Olaru 6-1, 6-4 while third seed Caroline Wozniacki overcame Taiwan's Chang Kai-Chen 6-4, 6-3.
Poland's seventh seed Agnieszka Radwanska beat Alberta Brianti of Italy 6-2, 6-0 but China's 23rd seed Zheng Jie fell, losing in three sets to Petra Kvitova of the Czech Republic.