American Tiger Woods had a face-to-face meeting with his former caddie Steve Williams in Sydney on Tuesday at which the New Zealander apologised for a racist comment he made last week.
Williams said: "It was my aim to shove it up that black arsehole" at an awards ceremony in Shanghai last Friday, explaining why he had celebrated Adam Scott's Bridgestone Invitational win in August so enthusiastically.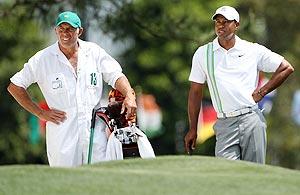 "We talked about it this morning, we met face-to-face, we talked it through and we have agreed it was the wrong thing to say," former World No 1 Woods said at the Lakes club, where he is playing the Australian Open this week.
"He did apologise, it was hurtful but we move forward."
"Steve is not a racist," Woods added. "It was just a comment he shouldn't have made."
The New Zealander caddied for Woods from 1999 until he was sacked in acrimonius circumstances earlier this year after helping the American win 13 major titles.
Now caddying for Australian Scott, Williams had already issued an apology to Woods on his website last Saturday.