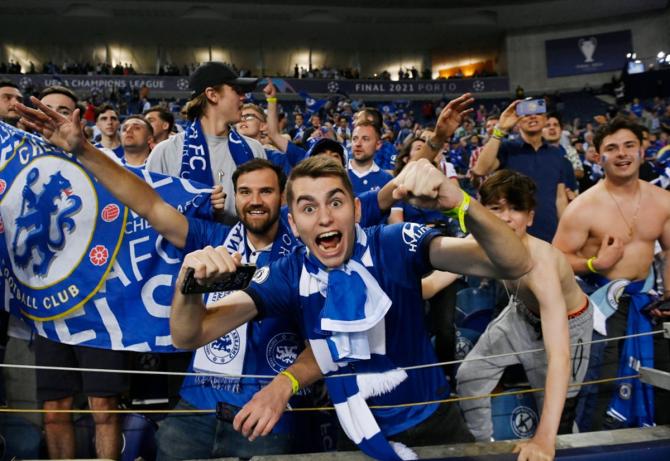 Bayern Munich striker Robert Lewandowski said the packed soccer schedule over the next few years is a major problem as players will struggle to deliver their best when there is little time for recovery.
The Pole played 60 matches for club and country since soccer restarted last May following the COVID-19 stoppage and the 32-year-old, who broke Gerd Mueller's Bundesliga goal-scoring record for a single season, said quality will undoubtedly suffer when players are pushed too far.
"So many people forget we're humans, we're not machines, we cannot play every day at the highest level of performance," Lewandowski told The Times in an interview.
"For football and for young players, that will be the big problem, to stay at the top for many years, because now and maybe the next two years, that will be extreme: so many big games."
Lewandowski, who will carry Poland's hopes at this summer's European Championship, said it is not only players who will suffer from too many games.
"Even for the fans, I think so many games will be more boring because if you wait for the games longer, there's more expectation, that feeling that you've been waiting for this," he added.
"The quality of games will go down. It's not possible to stay with this quality on the top with so many games."
Barcelona confirm Garcia to join from Man City
Barcelona on Tuesday confirmed that Manchester City defender Eric Garcia would join them on July 1 when his contract with the Premier League champions expires.
Garcia will return to his boyhood club on a deal until the end of the 2025-26 campaign after three years at City and follows striker Sergio Aguero in making the switch from Manchester to the Camp Nou.
Barca said they had included a 400 million euros ($489.52 million) buyout clause in the 20-year-old Garcia's contract.
The defender was limited to 12 matches in all competitions during the 2020-21 season due to injuries and illness. He is set to be unveiled at the Camp Nou later on Tuesday.
Argentine striker Aguero, who will officially join Barca on a two-year deal on July 1, said he hoped to play alongside compatriot Lionel Messi.
Messi, who is godfather to Aguero's son, will see his contract expire this month and there has been no news of an extension.
"I hope we can play together," Aguero told reporters.
"But the thing with Leo is that he'll make decisions with the club. I've been with him since a kid with the national team, I know him very well, and think he'll stay here."
Messi requested to leave Barca last year and was linked with a move to City or Paris St Germain but opted to stay for another season.
He was given permission by head coach Ronald Koeman to miss their final La Liga match of the season and take holiday.
Chile midfielder Vidal recovering from COVID-19 in hospital
Chile and Inter Milan midfielder Arturo Vidal is recovering in hospital after contracting COVID-19, the Chilean national team announced on Tuesday.
A statement said that the 34-year-old tested positive for the virus after initially being hospitalised with severe tonsilitis.
"The medical team of the Chilean national team emphasises that at the request of the player Arturo Vidal, it is announced that he has been diagnosed positive for Covid," a statement on the Chile national team website said.
"Arturo has been hospitalised and isolated from the group for more than 72 hours in a preventive measure indicated by the medical team, due to the presentation of previously reported severe pleural tonsilitis."
Vidal is the only member of the squad to have tested positive from the latest round of tests.
The midfielder acknowledged the diagnosis on Instagram.
"I will recover soon," he said in a post. "And I ask you, please, whoever can be vaccinated to do so!"
The 119-time Chile international is certain to miss his country's FIFA World Cup qualifying match against Argentina on Friday.
Chile then face Bolivia in another qualifier on June 9 before kicking off their Copa America campaign with another match against Argentina on June 13.