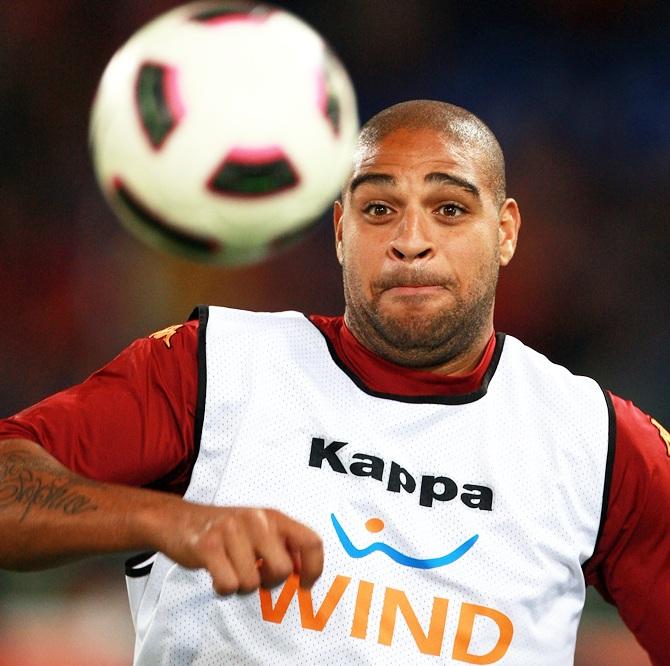 Adriano of AS Roma before the Serie A match. Photograph: Paolo Bruno/Getty Images
Former Brazil and Inter Milan striker Adriano could be the latest high-profile footballer to join Indian Super League (ISL) as FC Goa coach Zico has invited him to join his side in the coming season.
Zico said on his Facebook page that he has offered 33-year-old Adriano, who is currently a free agent, to play for FC Goa in the ISL second season this year.
"I have received Adriano at The Centre of football and I was happy to see that he is well and in a way. I invited him to play in the Goa FC with me in this season," Zico wrote.
Adriano also posted a message on his Facebook page, stating, "I had the pleasure of spending the afternoon with my idol... Simply Arthur Antunes Coimbra..."
It may be noted that Zico's real name is Arthur Antunes Coimbra.
Adriano played a few games with Brazilian club Atletico Paranaense in 2014 after being out of action for nearly two years because of injuries and off-field problems.
He was in the starting lineup for Brazil at the 2006 World Cup and his last match for Brazil was in 2010.
Adriano began his career with Flamengo and played for Inter Milan and AS Roma. He won four Serie A titles with Inter Milan, and with Brazil he won the 2004 Copa America and the 2005 Confederations Cup.